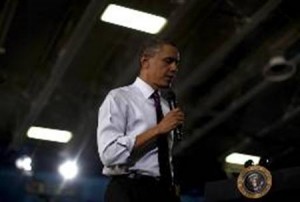 President Barack Obama may face a tough audience when he brings his tax-hike-for- billionaires message to Facebook on Wednesday — Silicon Valley is full of the sort of people the president wants to pay more taxes.
National debt is a major concern, particularly after the ratings agency Standard & Poor's threatened to downgrade the U.S. credit rating, and Obama has set a goal of cutting the deficit by $4 trillion within 12 years or less.
Obama now plans to tour the nation to tout his plan, which includes ending tax cuts for those making more than $250,000 a year. "Everybody has to do their part," Obama told Virginia students on Tuesday.
"If we're asking people who are going to see potentially fewer services in their neighborhoods to make a little sacrifice, then we can ask millionaires and billionaires to make a little sacrifice," he said.
He will get to make that pitch to the 19th wealthiest person in the United States, Facebook CEO Mark Zuckerberg, who is worth a cool $13.5 billion, Forbes calculates.
Obama will host a Webcast meeting on the economy from Facebook headquarters on Wednesday afternoon.
The Silicon Valley economy is recovering from the recession, adding more than 12,000 jobs last year, according to Joint Venture: Silicon Valley. The top shops are in a fight for top talent, as well, say recruiters.
Facebook, a social networking site, is in a bidding war for talent with the likes of Google and Twitter.
"The war is still very, very hot and very, very hard," said Al Delattre, global managing director for the technology industry at executive placement group Korn/Ferry. As companies make the move to mobile and social networking, competition for senior executives has ratcheted up.
People at the top of the tech pyramid work very hard, argues David Nosal, who runs his own recruiting firm in San Francisco. The government has plenty of other options in addition to taxing the rich, he said.
"Let's put performance metrics into the government system," he said, and do the same to improve education and save money. "I think (Obama) … should get a bit of that from the people he's going to meet with in the Valley."
Reuters will have a live stream of the 4:45 pm ET event and a live blog at http://live.reuters.com/Event/President_Obamas_Town_Hall_at_Facebook.
SAN FRANCISCO (Reuters) – By Peter Henderson
(Reporting by Peter Henderson and Alexei Oreskovic; editing by Todd Eastham)