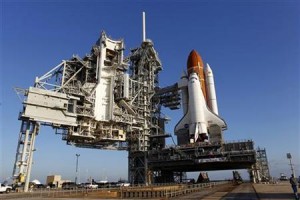 President Barack Obama plans to attend the April 29 launch of the space shuttle Endeavour at Cape Canaveral, Florida, a White House official said on Wednesday.
NASA plans to retire the shuttle fleet this year, with Endeavor's last flight to be followed by the final voyage of shuttle Atlantis in June.
Those two shuttles, plus Discovery, which has already completed its last mission, are to be put on display in museums in Florida, California and Virginia.
The all-veteran Endeavour crew is led by Mark Kelly, husband of Arizona Democratic Representative Gabrielle Giffords, who is recovering from a January 8 shooting that killed six people and injured 12 others.
Pending approval from her doctors, Giffords, who has not been seen publicly since the attack outside a Tucson, Arizona, grocery store, plans to attend the launch, Kelly has said.
The White House official said that Obama would be at the launch and Giffords' staff tweeted "We are very happy that Pres. Obama is coming to Mark's launch."
The primary purpose of the flight is to deliver the $2 billion Alpha Magnetic Spectrometer, or AMS, particle detector, an instrument designed to detect dark matter, antimatter and other exotic phenomena.
WASHINGTON (Reuters) – (Reporting by Steve Holland; Editing by Deborah Charles)