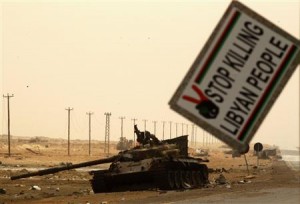 Britain and the United States plan to step up military pressure on Muammar Gaddafi on Tuesday, as the Libyan leader's army presses its bloody siege of the rebel-held city of Misrata.
More than a month of air strikes in a British and French-led NATO mission to protect Libyan civilians have failed to dislodge Gaddafi or bring big gains for anti-government rebels who hold much of east Libya, raising fears of a lingering stalemate.
British Defense Secretary Liam Fox and Britain's Chief of the Defense Staff General David Richards will meet U.S. Defense Secretary Robert Gates and Admiral Mike Mullen, chairman of the U.S. military's Joint Chiefs of Staff in Washington.
"The meeting will be about how we can put military pressure on the regime, and that will include the tooth and the tail — the people pulling the trigger to kill civilians in Misrata and the people supplying them," a Ministry of Defense source said.
As Libya has descended into civil war, counter-attacks by government forces have underlined Gaddafi will not go the same way as fellow leaders in Egypt and Tunisia did in the tide of popular unrest that has rolled across the Arab world.
The Libyan leader has vowed to fight to the death.
The war has split the oil producer, Africa's fourth biggest, into a government-held western area round the capital Tripoli and an eastern region held by ragged but dedicated rebels.
Troops loyal to Gaddafi have extended their campaign to pound Berber towns in Libya's Western Mountains while battling rebels around the port of the western hold-out city of Misrata.
ATTEMPT TO KILL GADDAFI
Tripoli was quiet on Tuesday after a NATO strike on Gaddafi's compound in the capital which Libyan officials said was an attempt to kill the leader who is fighting an uprising against his 41-year rule of this oil producing desert state.
A rebel spokesman in Misrata said on Tuesday there had been fresh fighting there. "Gaddafi's troops are still positioned on the outskirts of the city," the spokesman, called Reda, told Reuters by telephone before the line was cut.
"There is fighting now in the southern area. The revolutionaries (rebels) are trying to advance … The city center is stable this morning."
While the world's attention has been on the deadly siege of Misrata and battles further east, fighting has intensified in the Western Mountains.
Flanked by deserts, the mountain range stretches west for over 150 km (90 miles) from south of Tripoli to Tunisia, and is inhabited by Berbers who are ethnically distinct from most Libyans and long viewed with suspicion by the government.
Western Mountains towns joined the wider revolt against Gaddafi's rule in February. They fear they are now paying the price while NATO efforts to whittle down Gaddafi's forces from the air are concentrated on bigger population centers.
ZINTAN FEARS MISSILE STRIKES
A rebel spokesman, called Abdulrahman, told Reuters from the town of Zintan in Libya's Western Mountains: "It is quiet today but we fear shelling tonight. Gaddafi's forces have bombarded us with Grad rockets for four days after sunset."
"Four people were killed on Sunday including an elderly woman. Three people were also wounded including a 11-year old girl child," he said, adding:
"We have not heard any air strike by NATO forces for, I think, four days. They attacked Gaddafi's soldiers in an area north of Zintan on Friday but the troops are still there hiding in valleys."
The U.N. refugee agency UNHCR said 30,000 people had fled the Western Mountains for Tunisia in the past three weeks, leaving the towns of Nalut and Wazin virtually deserted.
"Only a few men could be seen there — no women and children," the agency said in a statement.
A British military spokesman, Major General John Lorimer, said British planes were in action at the weekend around Misrata, Yafran, Ajdabiyah and Brega, destroying tanks, rockets, missile launchers and armored personnel carriers.
Around Brega, the Libyan army reinforced its positions and dug in its long-range missile batteries to conceal them from attacks by NATO planes, a rebel army officer said on Tuesday.
Comments by rebel officer Abdul Salam Mohammed suggested Gaddafi now had clear control of the fought-over town.
"There are 3,000 government troops in Brega and the next two towns. They have been building up their presence," he told Reuters on the western edge of the strategic town of Ajdabiyah.
"We are controlling the area from here to al-Arbeen (halfway to Brega) but they still have snipers in the area, hiding in the desert behind the sand dunes, and they are active," he added.
The United States, the United Nations and European Union imposed sanctions on the Libyan government and selected Libyan companies in late February and in March.
But Libya has imported gasoline from Italian refiner Saras in April, taking advantage of a loophole in U.N. sanctions that permits purchases by companies not on a U.N. list of banned entities, according to shipping sources.
LIBYAN IMPORTS UNDER SCRUTINY
Libyan efforts to import fuel may be raised at the meeting in Washington on Tuesday. Fox told the BBC on Monday that Western forces were already interdicting oil tankers carrying refined products for Gaddafi fighters.
Britain's Foreign Minister William Hague told the cabinet on Tuesday to "prepare for the long haul" in Libya.
The African Union has been holding separate talks with Libyan Foreign Minister Abdelati Obeidi and rebel representatives in Addis Ababa to discuss a ceasefire plan.
The rebels had earlier rebuffed an AU plan because it did not entail Gaddafi's departure, while the United States, Britain and France say there can be no political solution until the Libyan leader leaves power.
Ramtane Lamamra, AU's Commissioner for Peace and Security, accused the West of failing to support the Ethiopia-based bloc's own peace proposal. "Attempts have been made to marginalize an African solution to the crisis," he said.
"The imposition of a no-fly zone over Libya and aerial bombardment by the Coalition, and now by NATO, have not brought a solution to the crisis," Lamamra said.
"In fact, the military situation on the ground seems to be sliding into a stalemate."
TRIPOLI (Reuters) – By Lin Noueihed
(Additional reporting by Guy Desmond and Maher Nazeh in Tripoli, Alexander Dziadosz in Benghazi and Sami Aboudi in Cairo, Hamid Ould Ahmed in Algiers, Tim Castle and Mohammed Abbas in London; writing by Peter Millership; editing by Giles Elgood)