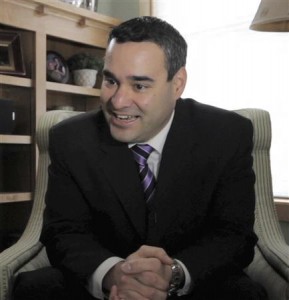 A clean-cut Minnesota father of three is the new voice of insurer Aflac, taking over the role of the acerbic quacking duck from the fired comedian Gilbert Gottfried.
Dan McKeague of Hugo, Minnesota, beat out some 12,500 applicants for the job, which consists mainly of quacking "Af-LAC!" at an increasing level of exasperation in the disability insurer's commercials.
The public got its first taste of McKeague's voice, as it were, in an online video of Chief Executive Dan Amos offering the 36-year-old the job. The radio sales manager's take on the quack is remarkably similar to Gottfried's, if slightly less sharp than the Brooklyn-born comic.
His first commercial debuts online today and will also air during the NBC singing competition "The Voice" Tuesday night.
The 30-second spot features the duck breakdancing in competition with a pigeon, with a single prominent quack of the company's name at the outset.
Aflac did not disclose McKeague's compensation, though it could be lucrative. Voice-over talent site Voices.com quotes a rate of $2,000 for a single national commercial.
Gottfried voiced the duck in more than 50 ads since 2000. Aflac fired him on March 14 for making crude jokes on Twitter in the aftermath of the Japan earthquake and tsunami. Gottfried issued a public apology the next day.
Japan is Aflac's most important market, where the company derives about three-quarters of its revenue, making the earthquake issue especially sensitive.
Though the company has said from the start its exposure to the quake would be limited, its shares fell more than 13 percent in the four days after the March 11 disaster struck Japan. They have only partially rebounded since.
NEW YORK (Reuters) – By Ben Berkowitz
(Reporting by Ben Berkowitz; Editing by Tim Dobbyn, Bernard Orr)