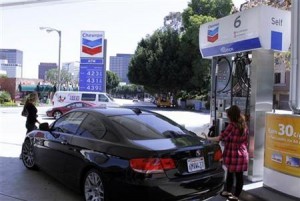 U.S. economic growth braked sharply in the first quarter as higher food and gasoline prices dampened consumer spending, and sent a broad measure of inflation rising at its fastest pace in 2-1/2 years.
Another report on Thursday showed a surprise rise in the number of Americans claiming unemployment benefits last week, which could cast a shadow on expectations for a significant pick-up in output in the second quarter.
Growth in gross domestic product — a measure of all goods and services produced within U.S. borders — slowed to a 1.8 percent annual rate after a 3.1 percent fourth-quarter pace, the Commerce Department said. Economists had expected a 2 percent growth pace.
Output was also restrained by harsh winter weather, rising imports as well as the weakest government spending in more than 27 years.
"The biggest factor was weather. It hurt consumption and construction. Energy also hurt consumption as well. Higher gasoline prices took a bigger bite out of people's budget," said Stephen Stanley, chief economist at Pierpont Securities in Stamford, Connecticut.
Initial claims for state unemployment benefits jumped 25,000 to a seasonally adjusted 429,000, the Labor Department said. Economists had expected claims to slip to 392,000.
U.S. government debt prices rose after the data, while stock index futures added to losses. The dollar extended losses against the yen and the euro.
The Federal Reserve on Wednesday acknowledged the slowdown in first-quarter growth, describing the recovery as proceeding at a "moderate pace" — a slight step back from a statement in March when it said the economy was on a "firmer footing."
It trimmed its growth estimate for 2011 to between 3.1 and 3.3 percent from a 3.4 to 3.9 percent January projection.
The U.S. central bank signaled it was in no rush to start withdrawing the massive monetary stimulus it has lent the economy. It confirmed plans to complete its $600 billion bond buying program in June.
ROBUST GROWTH NEEDED
"Coming in at 1.8, to get to where Fed's forecast is, you're going to need some robust growth," said Bob Andres, chief investment strategist and economist at Merion Wealth Partners in Berwyn, Pennsylvania. "In my mind, the Fed's forecast and the Street's forecast are more than likely a little too optimistic."
Growth in the first quarter was curtailed by a sharp pull back in consumer spending, which expanded at a rate of 2.7 percent after a strong 4 percent gain in the final three months of 2010.
Rising commodity prices meant the consumers, which drive about 70 percent of U.S. economic activity, had less money to spend on other items. The report also underscored the pain that strong food and gasoline prices are inflicting on households.
A broader measure of inflation, the personal consumption expenditures price index, rose at a 3.8 percent rate — its fastest pace since the third quarter of 2008 — after increasing 1.7 percent in the fourth quarter.
The core index, which excludes food and energy costs, accelerated to a 1.5 percent rate – the fastest since the fourth quarter of 2009 — from 0.4 percent in the fourth quarter. The core gauge is closely watched by Fed officials, who would like it around 2 percent.
Still, economists expect consumer spending to trend higher in the second quarter, mostly on the belief gasoline prices will not rise much above $4 a gallon on average.
In the first quarter, growth was also curbed by the trade deficit as a need for businesses to rebuild inventories sucked in imports. Export growth slowed.
A widening trade deficit weighs on GDP growth because it shows more U.S. demand being sated by overseas production. Nevertheless, strong import growth has been seen as a sign of underlying strength in domestic demand.
Restocking by businesses picked up pace, with inventories increasing $43.8 billion after a $16.2 billion rise in the fourth quarter. Inventories added 0.93 percentage point to GDP growth. Excluding inventories, the economy grew at a pedestrian 0.8 percent pace, reflecting important pockets of weakness, after a brisk 6.7 percent rate in the fourth quarter.
Business spending on equipment and software gained pace from the prior quarter, but government spending contracted at its fastest pace since the fourth quarter of 1983.
Home building made no contribution, while investment in nonresidential structures dropped at its quickest pace the fourth quarter of 2009. However, motor vehicle output added 1.4 percentage point to economic growth last quarter.
WASHINGTON (Reuters) – By Lucia Mutikani
(Additional reporting by Mark Felsenthal; Editing by Neil Stempleman)