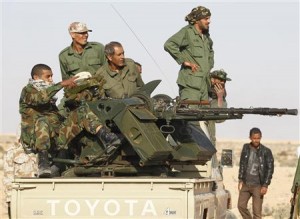 The United States threw a financial lifeline to rebels controlling eastern Libya while forces loyal to Muammar Gaddafi harried insurgent strongholds in the west and far southeast of the country.
Government troops kept up shelling overnight of the besieged rebel outpost of Misrata, where aid ships have been attempting to bring in emergency supplies and evacuate the wounded. A local doctor said by telephone that seven insurgents were killed when a checkpoint came under rocket and heavy artillery fire.
The Arabic Al Jazeera television said forces under Gaddafi, who has ruled the oil-producer over four decades, also clashed with rebels in the remote southeastern district of Kufra, near the Egyptian border. It gave no further details.
The rebel-held western town of Zintan came under fire from government forces using multiple rocket launchers on Thursday.
"Gaddafi forces have been using Grad missiles to bomb the town including inhabited areas. Today alone, 80 missiles hit the town," said a rebel spokesman in Zintan identifying himself as Abdulrahman.
"Fortunately the majority of Zintan residents have already left their homes and fled either toward the Tunisian border or to secure areas in and around Zintan," he told Reuters.
After weeks of fast moving advances and retreats by rebel and pro-Gaddafi forces along the Mediterranean coast, fighting appears to have settled into a pattern of clashes and skirmishes from the mountains of the west to the southeastern desert.
French and British-led NATO air attacks have eased the plight of poorly trained and armed rebels, but have not brought the collapse of the Gaddafi leadership rebels had wished for.
The protracted struggle has sown division among Western countries on how to increase pressure on Gaddafi and given him time to shore up support among tribal and political allies from his Tripoli power base.
Senior rebel National Council spokesman Abdel Hafiz Ghoga told a news conference in the rebel heartland city of Benghazi that he was particularly concerned by use of Russian-made Grad missiles, fired in volleys, often from the back of trucks.
"Many in the Western Mountains in towns such as Yefrin, Zintan and Kabau are being killed by this indiscriminate shelling," rebel National Council spokesman Abdel Hafiz Ghoga told a news conference in Benghazi in the east on Wednesday.
The United States voiced confidence in the Benghazi-based council Wednesday as the U.S. Treasury moved to permit oil deals with the group, which is struggling to provide funding for the battle-scarred areas under its control.
The order by the U.S. Treasury Department's Office of Foreign Assets Control may help to clear up concerns among potential buyers over legal complications related to ownership of Libyan oil and the impact of international sanctions.
The first major oil shipment from rebel-held east Libya, reported to be 80,000 tonnes of crude, was expected to arrive in Singapore on Thursday for refueling but oil traders told Reuters finding a buyer was not straightforward, with many of the usual traders still worried about legal complications.
A tanker booked for Italian oil company Eni to carry crude to Italy from Gaddafi-held territory in Libya never arrived in port and left empty last week because the sanctions meant the government would not have got paid, trade sources said.
"They didn't want the crude to go, because they wouldn't have gotten any money for it," an industry source said on Wednesday, adding, "They could use it to refine into gasoline."
HOSPITALS OVERWHELMED
Residents say pro-Gaddafi forces have been surrounding mountain-top towns in western Libya, cutting them off from food, water and fuel supplies and unleashing indiscriminate bombardments on their homes with rockets and mortars.
Libyan officials deny targeting civilians, saying they are fighting armed gangs and al Qaeda sympathizers who are terrorizing the local population.
Rebels who seized a remote post on the western border with Tunisia hurriedly dug trenches after hearing that forces loyal to Gaddafi were on their way to re-take the crossing.
The rebel spokesman in the Western Mountains town of Zintan, scene of some of the region's most intense fighting, said there was heavy bombardment there on Wednesday, that at least 15 people were wounded and five houses destroyed.
Both the rebels and the European Union said the shelling of the Misrata port threatened a vital supply and rescue route.
"We are receiving reports of hospitals being overwhelmed by a growing number of wounded," EU Commissioner Kristalina Georgieva said in a statement.
An aid ship took advantage of a brief lull in the fighting on Wednesday to rescue Libyans and a French journalist wounded in the fighting in Misrata, along with migrant workers, from the western rebel enclave and headed for Benghazi, center of the rebel heartland in the east.
"Despite heavy shelling of the port area … about 935 migrants and Libyans have been rescued and are now safely en route to Benghazi," the International Organization for Migration (IOM) said.
TRIPOLI (Reuters) – (Additional reporting by Christian Lowe in Algiers, Guy Desmond and Maher Nazeh in Tripoli, Deepa Babington and Alexander Dziadosz in Benghazi, Stephanie Nebehay in Geneva; writing by Ralph boulton and Philippa Fletcher; Editing by Giles Elgood)