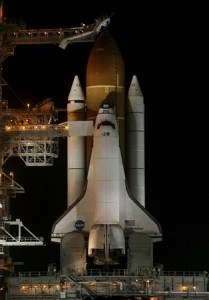 Technicians at the Kennedy Space Center began fueling the shuttle Endeavour on Friday, aiming for a launch attempt at 3:47 p.m. EDT (1947 GMT) to deliver a high-profile physics experiment to the International Space Station.
Forecasters said there was a 70 percent chance that weather conditions would be suitable for launch.
The mission is the 134th and next to last for the U.S. space shuttle program, which is ending after a cargo run by the shuttle Atlantis this summer.
The launch is expected to draw up to 750,000 spectators to central Florida's Atlantic coast, including President Barack Obama and his family and recuperating U.S. Representative Gabrielle Giffords, who is married to Endeavour commander Mark Kelly.
Giffords, an Arizona Democrat, was gravely injured during an assassination attempt on January 8 outside a Tucson, Arizona, grocery store in which six people were killed and 12 others were injured. She has not been seen publicly since the attack.
Endeavour, the replacement ship for Challenger that was lost in a fatal 1986 launch accident, is the youngest of NASA's three surviving spaceships and the second to be retired.
Discovery, the fleet leader, returned from its final space mission in March, and Atlantis is due to close out the 30-year-old program with a launch on June 28. The fourth shuttle, Columbia, was destroyed due to a damaged heat shield as it flew through the atmosphere for landing in 2003.
Endeavour's last flight is devoted to outfitting the space station, a $100 billion project of 16 nations, with its highest profile science instrument, a $2 billion particle detector called the Alpha Magnetic Spectrometer.
The instrument was built by an international collaboration of 60 research organizations and overseen by Nobel physics laureate Samuel Ting of the Massachusetts Institute of Technology.
The device, which will be attached to the outside of the space station, is designed to study high-energy particles in cosmic rays, gathering information that could help scientists better understand "dark matter" which cannot be directly detected.
Endeavour also carries a pallet of spare parts for the station, which will soon be dependent on smaller cargo ships from Russia, Europe and Japan for resupply missions. NASA has hired two U.S. companies, Space Exploration Technologies and Orbital Sciences Corp, to join the cargo runs beginning next year.
The shuttles are being retired due to high operating costs, and to free up NASA funds for work on new spaceships that can travel beyond the station's 220-mile high orbit where the shuttles cannot go.
CAPE CANAVERAL, Florida (Reuters) – By Irene Klotz
(Editing by Jane Sutton and Mohammad Zargham)