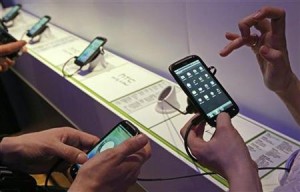 Strong demand for smartphones gave a further boost to overall cellphone market volumes in January-March and made iPhone supplier Apple Inc a rare winner on the market, research firms said on Friday.
IDC saw January-March market growth of 20 percent, helped also by strong gains by smaller vendors as the three largest phone makers — Nokia Oyj, Samsung Electronics Co Ltd and LG Electronics Inc — lost market share.
Apple's iPhone sales more than doubled from a year ago, buoyed by strong sales on Verizon Wireless and additional carrier deals elsewhere, with market share rising to 5 percent.
"The iPhone once again sold particularly well in developed economic regions of the world, such as North America and western Europe," IDC said.
Apple is now within striking distance of LG, which had a 6.6 percent market share in the quarter. Nokia's share dropped to 29 percent from 35 percent a year ago while Samsung slipped to 19 percent, IDC said.
Blackberry-maker Research In Motion Ltd benefited from the smartphone boom in the quarter, winning market share, but warned late on Thursday its quarterly sales would miss earlier forecasts.
The Canadian group is in a transition period as it revamps its product line and launches its first tablet computer.
Separately Strategy Analytics estimated handset shipments grew 17 percent from a year ago, driven by surging smartphone demand in mature regions and increasingly popular models with multiple SIM cards in emerging markets.
"The first quarter of 2011 was marked by supply-chain disruptions related to the Japan earthquake tragedy and by ongoing mild component constraints in areas such as touchscreens, memory and cameras," said Neil Mawston, analyst at Strategy Analytics.
Mawston said component shortages would continue for at least the next six to nine months, causing restricted volumes or rising input prices, but operational challenges from this would remain minor for most manufacturers.
HELSINKI (Reuters) – By Tarmo Virki, European Technology Correspondent
(Editing by Muralikumar Anantharaman and David Holmes)