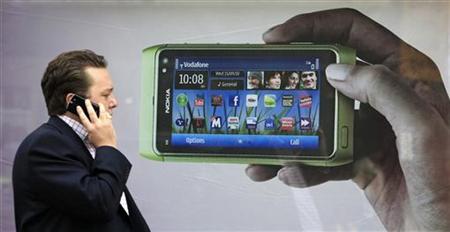 Investors dumped shares in Nokia again on Wednesday, taking them to their lowest in more than 13 years, as analysts feared worse to come for the handset maker after Tuesday's profit warning.Nokia shares fell as much as 10 percent, extending their previous day's 18 percent fall, and by 1111 GMT (7:11 a.m. EDT) were trading down 7.4 percent at 4.40 euros in volumes nearly three times their 90-day daily average in four hours of trading.
Nokia said on Tuesday that mobile phone sales in the second quarter would be "substantially below" its previous forecast and abandoned its full-year outlook, blaming difficult conditions in China and Europe.
The company is moving to Microsoft Corp's Windows software from its own Symbian platform as part of an overhaul of its phone business set out three months ago by new Chief Executive Stephen Elop.
Mobile operators in Europe, who are key to the success or failure of devices on the continent because of the subsidies they provide, told Reuters that Nokia's new Symbian phones, a stopgap until the end of the year, were of little interest.
Last quarter, Nokia made 29 percent of its devices and services sales in Europe, a year-on-year decline of 5 percent. Greater China sales grew 30 percent to 27 percent of the total.
Analysts said their main concern was that Nokia, once the biggest player in mobile phones, may not be able to reclaim much market share even after it begins selling new phones based on Microsoft Corp's Windows software in the fourth quarter.
"We would continue to avoid the stock as Symbian smartphone sales are falling off faster than expected, and we are skeptical that new Windows Phone models will be able to replace lost profits," said Gleacher & Co analyst Stephen Patel.
The company said tough competition from Apple and Google
and from lower-end handset makers were driving down its sales and selling prices.
After Tuesday's drop, Nokia shares were trading at 10.4 times 12-month estimated forward earnings, compared with Apple's 12.7 times and Microsoft's 9.1 times.
"We are concerned that the erosion that the company has suffered in Q2 is just the beginning and that there could be worse to follow," Nomura's Global Technology Specialist Richard Windsor wrote in a note.
"Nokia's potential release of a Windows Phone in Q4 is irrelevant, in our view," he added, pointing out that it would be a high-end device likely to ship in low volumes.
Nomura cut its price target on Nokia shares to 4.00 euros from 4.75 euros and kept its "reduce" recommendation.
J.P. Morgan cut its price target to 4.25 euros from 5 euros, while Credit Suisse cut its to 4 euros from 5.5 euros.
"We see the earliest possible timing for the beginnings of a turnaround as the launch of new Windows products which we expect at the end of this year," J.P. Morgan analyst Rod Hall said in a note, recommending investors remain underweight on the shares.
"Even then there are no guarantees that consumers will want what Nokia is selling," he wrote.
NO DEMAND
Gartner analyst Carolina Milanesi told Reuters: "The problem that Nokia is facing, especially in those markets that are operator-controlled like Europe, is that they're going to have to reduce prices considerably in order to stay competitive."
"Operators are not going to be prepared to subsidize handsets where they don't see demand," added Milanesi, who leads Gartner's mobile devices research.
Nokia has begun shipping its new Symbian phones, the business-focused E6 and multimedia X7, but most European operators contacted by Reuters had no plans to offer them.
"Nokia is some way behind, I'm afraid, in terms of the smartphone user experience," said a spokesman for one British operator who asked not to be named.
A spokeswoman for Telekom Austria, which is offering the E7 in all the countries in which it operates but not the X7, said: "In general, Nokia handsets in the ultra-low cost area are still interesting devices for our customers, but in the smartphone space we can ignore them for the moment."
In Britain, Vodafone will offer the E6, and Hutchison Whampoa's 3, the country's smallest operator, will offer the X7. T-Mobile and Orange have no plans to offer either.
A spokeswoman for Deutsche Telekom in Germany said its T-Mobile unit would be launching the X7 in four weeks' time, but not the E6. "The challenge we see with Nokia is that the Symbian phones are quite expensive," she said.
Like T-Mobile in the UK, she welcomed the advent of Android-based smartphones from Chinese vendors such as ZTE , which makes phones for operators to put their own brand on, as well as ZTE-branded phones.
"ZTE has an advantage as they offer smartphones that are less pricey," she said. She added: "Nokia is, however, a very important supplier of non-smartphones."

HELSINKI/LONDON (Reuters) – By Ritsuko Ando and Georgina Prodhan(Additional reporting by Nicola Leske in Frankfurt and Dominic Lau in London; Editing by Louise Heavens and Will Waterman)