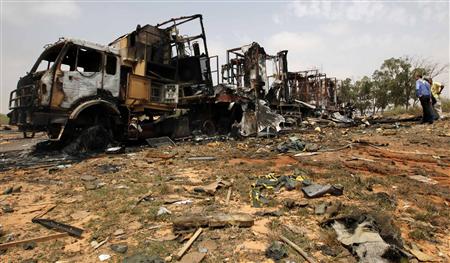 Thousands of troops loyal to Libyan leader
Muammar Gaddafi
advanced on the rebel-held western city of
Misrata
on Wednesday, shelling it from three sides in attacks that killed at least 12 rebels, a rebel spokesman said.There was no immediate comment from
Gaddafi's government
.
"Misrata is under heavy shelling … Gaddafi forces are shelling Misrata from three sides: east, west and south," rebel spokesman Hassan al-Misrati told Reuters from inside the town.
"He has sent thousands of troops from all sides and they are trying to enter the city. They are still outside, though."
He added that 12 rebels had been killed and 26 wounded.
The offensive followed a lull in NATO bombing of Tripoli on Wednesday, after 24 hours of some of the heaviest bombardments of the Libyan capital since air strikes began in March.
NATO defense ministers met in Brussels on Wednesday, but there were few signs of willingness to intensify their Libya mission, which has so far failed to oust Gaddafi.
The alliance says the bombing aims to protect civilians from the Libyan leader's military, which crushed popular protests against his rule in February, leaving many dead.
But with officials like British Foreign Secretary William Hague talking explicitly of Gaddafi being forced out, critics say NATO has gone beyond its U.N. mandate to protect civilians.
Western powers are lining up behind the rebels. Spain on Wednesday said it had recognized their National Transitional Council as the country's only representative.
"I'm here today to confirm that the National Transitional Council is the only legitimate representative of the Libyan people," Spanish Foreign Minister Trinidad Jimenez told reporters in the eastern Libyan city of Benghazi on Wednesday.
Rebel spokesman Abdulrahman said from Zintan that Gaddafi's forces had also shelled the western town on Wednesday morning, after massing large numbers of troops toward it.
"They are now using anti-aircraft weapons," he said.
Gaddafi's troops and the rebels have been deadlocked for weeks, with neither side able to hold territory on a road between Ajdabiyah in the east, which Gaddafi's forces shelled on Monday, and the Gaddafi-held oil town of Brega further west.
Rebels control the east of Libya, the western city of Misrata and the range of western mountains near the border with Tunisia. They have been unable to advance on the capital against Gaddafi's better-equipped forces.
NATO SEEKS MORE SUPPORT
NATO sought broader support for the Western bombing campaign in Libya on Wednesday, given that the alliance's air power has been stretched by the latest strikes on Tripoli.
"We want to see increased urgency in some quarters in terms of Libya," NATO Secretary-General Anders Fogh Rasmussen said.
But some NATO allies that have not taken part in the bombing said they would not alter their stance, and Sweden, a non-NATO participant, said it would scale down its role.
Of the 28 NATO allies, only eight, led by Britain and France, have been conducting air strikes on Gaddafi's forces, and a senior U.S. official warned this week that fatigue was beginning to set in among the aircrews already committed.
NATO allies agree Gaddafi must go, but not all view military intervention as the best way to achieve this.
Germany, which opposed the Libyan intervention, said it understood the pressures on Britain and France but would not change its position. Spain said it would not join the mission, despite now recognizing the rebels as Libya's representatives.
"Germany sticks to its position — no military engagement," German Deputy Defense Minister Christian Schmidt told reporters.
GADDAFI DIGS IN
As bombs fell late on Tuesday, Gaddafi vowed to fight to the end, after strikes on his Bab al-Aziziya compound.
"We only have one choice: we will stay in our land dead or alive," he said in a fiery audio address on state television.
Gaddafi says the rebels are a minority of Islamist militants and the NATO campaign is an attempt to grab Libya's oil.
U.S. President Barack Obama said on Tuesday it was "just a matter of time before Gaddafi goes."
Diplomatic overtures are being made to the rebels by world powers, even Russia and China, despite their misgivings about interference in Libya's sovereign affairs.
A Russian special envoy for Africa said in the rebel capital of Benghazi on Tuesday that Gaddafi could no longer represent Libya and that Russia was ready to help in any way possible.
The Chinese Foreign Ministry said an Egypt-based Chinese diplomat had visited Benghazi to talk with the rebels.
TRIPOLI (Reuters) – By Peter Graff(Additional reporting by Mariam Karouny in Beirut, David Brunnstrom in Brussels, Sherine El Madany in Benghazi and Hamid Ould Ahmed in Algiers; Writing by Tim Cocks and John Irish; editing by Tim Pearce)