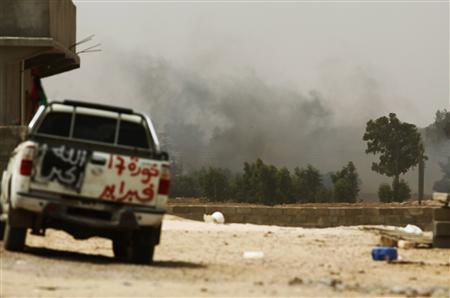 Libya
's rebels said they hoped to restart oil production and gained pledges of more than $500 million of aid on Thursday as Western powers press them to plan for the day after
Muammar Gaddafi
leaves power.While NATO continued to pound
Tripoli
from the air, Western and Arab nations met the rebels in
Abu Dhabi
to focus on what one U.S. official called the "end-game" for the Libyan leader.
At the United Nations, the prosecutor of the International Criminal Court (ICC) said its investigators had found evidence linking Gaddafi to a policy of raping opponents.
A possible war crimes prosecution could be an incentive for Gaddafi to cling to power, but Senegalese President Abdoulaye Wade offered to help ease his former African Union ally's exit from power and appealed to him to step down.
"It is in your own interest and the interest of all the Libyan people that you leave power in Libya and never dream of coming back to power," Wade said during a visit to the rebel-held east Libyan city of Benghazi.
"I can be one of those who help you pull out of political life and the sooner you leave the better," Wade said.
A bipartisan group in the U.S. Congress urged President Barack Obama to use frozen Libyan government assets to pay for humanitarian aid for Libyan people caught up in the civil war.
NATO air strikes resumed in Tripoli on Wednesday night after a lull following the heaviest day of bombings since March, with new blasts shaking the city on Thursday morning and afternoon.
Rebel Oil and Finance Minister Ali Tarhouni said the Benghazi-based leadership hoped to restart production of up to 100,000 barrels a day "soon," without specifying a timeframe, and called for more aid, immediately.
"It is a failure if there is no clear financial commitment to it," he told reporters. "Our people are dying … So my message to our friends is that I hope they walk the walk."
Italian Foreign Minister Franco Frattini told Reuters Italy would give the rebels up to 400 million euros ($586.1 million) of cash and fuel aid backed by frozen Libyan assets. Kuwait said it would immediately transfer $180 million to the rebels.
That pledge of assistance came at a meeting of the so-called Libya contact group, including the United States, France and Britain, as well as Arab allies Qatar, Kuwait and Jordan, which is pressing the rebels to give a detailed plan on how they would run the country if Gaddafi stood down or was toppled.
"The international community is beginning to talk about what could constitute end-game to this," one senior U.S. official told reporters aboard U.S. Secretary of State Hillary Clinton's plane which landed in Abu Dhabi on Wednesday night.
That official listed scenarios including a ceasefire, which Tripoli has demanded include NATO and leave Gadaffi's fate open.
The rebel Transitional National Council (TNC) and its Western allies have rejected Libyan government ceasefire offers that do not include Gaddafi stepping down first.
The U.S. official said there have been talks on what might happen to Gaddafi but nothing specific on "where he should go, or whether he should remain in Libya for that matter." Gaddafi's "days are numbered," Clinton said in a statement.
"PRESSURE WILL INCREASE"
U.S. officials on Wednesday announced delivery of the TNC's first U.S. oil sale, part of a broader strategy they hope will get money flowing to the cash starved group.
U.S. oil refiner Tesoro said in May it had brought 1.2 million barrels, which U.S. officials said was due to arrive in Hawaii on Wednesday on a tanker chartered by Swiss trader Vitol.
One of the highest-ranking defectors, ex-Foreign Minister Abdurrahman Mohamed Shalgham, said the rebels needed $3 billion to cover salaries and food costs for the next four months. Libyan assets in Italy could contribute to that sum, he said.
NATO defense ministers met in Brussels on Wednesday, but there were few signs of willingness to intensify their mission, which after nearly four months has failed to oust Gaddafi.
The alliance says the bombing aims to protect civilians from the Libyan leader's military, which crushed popular protests against his rule in February, leaving many dead.
Critics say NATO has gone beyond its U.N. mandate in seeking to force Gaddafi out. The Libyan leader says the rebels are Islamist militants and NATO attempting to grab Libya's oil.
At the United Nations, the ICC prosecutor said its investigators have evidence linking Gaddafi to a policy of raping opponents and may bring separate charges on the issue.
Prosecutor Luis Moreno-Ocampo requested arrest warrants on May 16 against Gaddafi, his son Saif al-Islam and the country's spy chief on charges of crimes against humanity committed during attempts to crush the country's rebellion.
At a U.N. news conference on Wednesday, he said the question until recently had been whether Gaddafi himself ordered the rapes "or is it something that happened in the barracks?"
"But now we are getting some information that Gaddafi himself decided to authorize the rapes, and this is new."
At the United Nations human rights body, Libya's envoy rejected a separate U.N. report claiming Gaddafi's forces had committed war crimes, and accused the rebels of cannibalism and slicing off the breasts of women.
MISRATA ATTACK
Rebels in the besieged western city of Misrata said thousands of pro-Gaddafi forces launched a major advance on the city and killed at least 12 people with a barrage of shell fire late on Wednesday, though NATO disputed that account.
"We didn't see anything anywhere near the thousands. There were some small groups of pro-Gaddafi forces who were trying to advance toward the center of Misrata … but I think this is an embellishment," a NATO official said.
On Thursday, a separate rebel spokesman, Suleiman, contacted by telephone, said the city had been bombarded in the morning from the east, south, and west.
Gaddafi troops and the rebels have been deadlocked for weeks between the eastern towns of Ajdabiyah and the Gaddafi-held oil town of Brega. Rebels also control the western city of Misrata and the range of western mountains near the border with Tunisia.
ABU DHABI/TRIPOLI (Reuters) – By Humeyra Pamuk and Peter Graff(Additional reporting by Peter Graff in Tripoli, Khaled al-Ramahi in Misrata, Sherine El Madany in Benghazi, Adrian Croft in London and Mahmoud Habboush and Andrew Quinn in Abu Dhabi; Writing by John Irish and Joseph Logan; Editing by Tim Cocks and Jon Hemming)