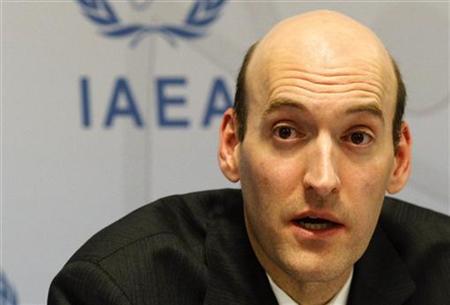 The head of the U.S. nuclear safety regulator did not break the law when he stopped a review of a proposed Nevada burial site for radioactive waste, but he "strategically" kept information from his fellow commissioners, the Wall Street Journal said, citing a report from the agency's internal watchdog.
The confidential report is being studied by Republican lawmakers who are already fiercely critical of Gregory Jaczko, chairman of the Nuclear Regulatory Commission (NRC). They have accused him of helping end work on the Yucca Mountain waste site for political reasons.
The disaster at Japan's Fukushima Daiichi plant in March focused new attention on how best to store nuclear waste, most commonly kept in pools near plants. In Japan, reactors and storage pools overheated after an earthquake and tsunami cut power, and officials have struggled to contain the radiation.
The U.S. House of Representatives Energy and Commerce committee will hold a hearing on Jaczko's actions and the NRC's inspector general report on Tuesday.
YUCCA FIGHT GOES ON
The U.S. Congress passed a law in 1987 promising to bury waste from the nation's 104 nuclear reactors deep inside Yucca Mountain, but the issue has been fought in courts and in Washington by Nevadans who fear the dump could pollute water and hurt tourism.
The Obama administration killed the Yucca proposal after taking office. Before his appointment to the five-member commission, Jaczko was a top aide to Nevada senator Harry Reid, a senior Democrat and the top political opponent of the site.
A licensing board at the NRC ruled the Energy Department did not have the legal authority to pull its application for a regulatory license. That decision went to the five-member commission, but Republicans have accused Jaczko of blocking a resolution to the issue.
In the meantime, Jaczko told NRC staff to stop work on their technical review of the Yucca site. House Republicans from the Science Committee examined the confidential technical review and earlier this week said the NRC staff had concluded the site was safe.
NRC Inspector General Hubert Bell's report described Jaczko's "forceful management techniques" as making him difficult to work with, and said the other commissioners who led the agency felt he did not share enough information with them, the WSJ reported.
A majority of the commissioners disagreed that work on Yucca should be stopped, but the inspector general said Jackzo gave them "varying amounts of information" about his plans.
Earlier this week, before the report was publicized, Jaczko said the inspector general had cleared his actions in what he called "a complicated issue.
"All NRC Chairmen have the responsibility to make difficult and sometimes controversial decisions," said Jaczko, who said he hoped the inspector general's report would settle the matter.
WASHINGTON (Reuters) -  (Editing by Paul Simao)
(Reporting by Roberta Rampton)