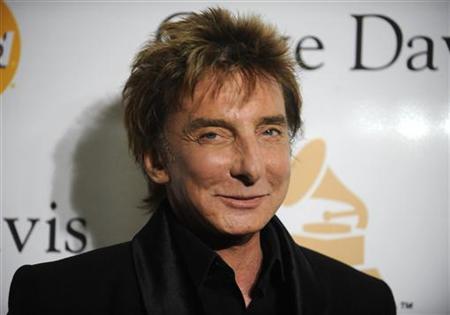 Not bad for a decidedly unfashionable singer.
Barry Manilow
earned a coveted spot as a trending topic on Twitter recently when he went on a daytime TV chat show to promote his first album of original material in 10 years. The honor is usually reserved for high-flying hotshots rather than golden-oldie types.
Alas, the Internet buzz did not reflect the momentous occasion. "Barry Manilow is performing, and I'm three seconds from blowing my head off," said one tweeter. Added another, "Barry Manilow is just plain scary looking."
But Manilow, whose eerily smooth face belies his 67 years (he turns 68 on June 17), has heard it all before. After 40 years in the business as the butt of all sorts of jokes, there's nothing that can faze him.
"I'm surprised I'm still here, I really am, because they were really hard on me, from the late-night talk shows to the press," he said in an interview with Reuters hours after his appearance on "The Talk." "But the audiences, most of the times, were on my side. They were there for me."
But will his older-skewing female fans be there for his new album "15 Minutes," an ambitious follow-up to a series of covers albums that sent him to the upper reaches of the charts for the first time since his '70s heyday?
Set for release in the United States and Canada on Tuesday (and the UK on June 20), the rock-flavored project is inspired by the harsh media spotlight shone on young celebrities.
ANGRY MANILOW
The 16 songs detail the rise, fall and possible redemption of a youngster who seeks fame and fortune. Manilow wrote the music, working with lyricist Enoch Anderson. He released it on his own label.
"It's not pretty piano tinkling," he said. "It's got a lot of energy. Some of it is anger. I don't know whether they'll like that. But there's a lot of great melodies on it, so hopefully they'll connect with that."
The project took hold while Britney Spears was undergoing a public meltdown in 2007, shaving her head and later landing in a psych ward under the full gaze of the paparazzi.
"(We) both said, Is that the price of fame? Is this what's going on these days?," Manilow said.
"If you do it for the fame, you are asking for trouble," he added. "I did it for the music. I did it because I couldn't not do it. It saved my ass."
By the time Manilow scored his first No. 1 single with "Mandy" in early 1975, he was a 31-year-old veteran well versed in the cruel reality of showbiz. More hits quickly followed: "I Write the Songs," "Looks Like We Made It," "Can't Smile Without You," "Copacabana (At the Copa)."
But by his admission he became a bit of a tyrant, and he had to try to be "a good guy again." He considers himself pretty secure these days.
So, no plastic surgery then? "Not a thing," he said with a straight face. "This is what my family looks like."
The fans — a.k.a. the "fanilows" — can't get enough. Manilow is seven years into a Las Vegas residency, jetting to the weekend engagements from his home in nearby Palm Springs where he maintains a strict fitness and dietary regimen.
He always knows exactly what is planned for the next five years. A recent stint at London's 02 Arena with the Royal Philharmonic Orchestra was taped for a live album that will come out in the winter. Then he plans to record a follow-up to his first jazz album, 1984's "2:00 A.M. Paradise Cafe."
By the end of this five-year plan he would be 73. "In my head I'm going on 35," he insisted with a smile that barely creased his face. "Five years from now I'll be 40. Hey!"
LOS ANGELES (Reuters) – By Dean Goodman(Editing by Jill Serjeant)