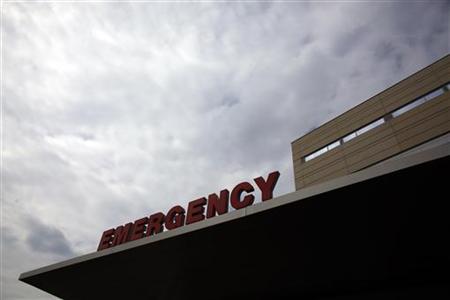 Rerouting ambulances away from overcrowded emergency rooms may be costing patients their lives, U.S. researchers say.For patients with heart attack, high levels of rerouting are tied to a three percent higher risk of death, they report in the Journal of the
American Medical Association
.
"For every hundred patients there are three avoidable deaths," said Dr. Renee Hsia, an emergency physician at the University of California, San Francisco, who led the study.
"Now we actually have empirical evidence to show crowding affects patients in a very real way," she told Reuters Health.
The new study is the largest so far to size up the health toll of ambulance diversion, a common way of taking pressure off the nation's overflowing ERs, which experts say are reaching a breaking point.
Just last month, Hsia and colleagues found that the number of ERs in the U.S. has dropped by more than a quarter over the past two decades. At the same time, patient visits have shot up by 35 percent.
"We know as practitioners it's very unpleasant to work when it's crowded," said Hsia. "You kind of know that you're not able to give patients enough attention because everybody is running around. Now we know we have to pay more attention to this, because patients are dying from it."
According to the National Center for Health Statistics, one ambulance is diverted away from the nearest hospital every minute in the U.S.
"Diversion is lethal and it has to stop," said Steven L Bernstein of Yale University School of Medicine, who has studied ER crowding but was not involved in the new work.
He said ambulance diversion is a reasonable proxy for crowding, and that the new findings should be a wake-up call to both patients and policymakers.
"You should ask your local hospital what it's doing about diversion and crowding, because your life might depend on it," he told Reuters Health.
Hsia and her colleague Yu-Chu Shen, of the Naval Postgraduate School in Monterey, California, tapped into Medicare data and daily diversion logs from Los Angeles, San Francisco, San Mateo and Santa Clara counties.
First, they located the nearest ERs for some 11,000 seniors who suffered heart attacks over five years. Then they compared death rates across different levels of diversion within each hospital — in other words, when the ERs were experiencing a lot of crowding and when they were operating at a slower pace.
One month after the heart attacks, the death rate was 15 percent among patients whose nearest hospital experienced no diversion on the day they were admitted.
When the ER was "on diversion" for at least 12 hours of that day, which happened a quarter of the time, more than 18 percent of the patients had died after a month. And the three-percent gap remained one year later.
Hsia said those numbers were adjusted for how sick the patients were, as well as their age, sex and ethnicity. And she expects the same results for other time-sensitive conditions, like stroke and kidney disease.
"Crowding affects everyone, not just those who couldn't come to the ER, but also those who are there," she added.
While the study can't pin the extra deaths conclusively on ambulance diversion — it only found an association — both Hsia and Bernstein believe diversion to be the most likely explanation.
According to the American Heart Association, heart attacks kill more than 425,000 Americans every year. So thousands of people could potentially be saved if crowding and ambulance diversion were eliminated, said Bernstein.
He explained that both financial woes at the hospitals and patients' inability to find primary care add to the congestion at ERs.
"The biggest driver of crowding turns out to be our inability to move patients from the emergency room to beds upstairs once they get admitted," he told Reuters Health.
Often, Bernstein said, hospital beds are reserved for the most profitable patients, such as those with cancer or orthopedic problems, and others are treated in the hallways of the ER — a phenomenon known as boarding.
"It's difficult to have policymakers pay attention to crowding when they continue to perceive elective admissions as better serving their bottom lines than providing care for patients in the emergency department," he said.
NEW YORK (Reuters Health) – By Frederik JoelvingSOURCE: http://bit.ly/4HWZ7 Journal of the American Medical Association, online June 12, 2010.