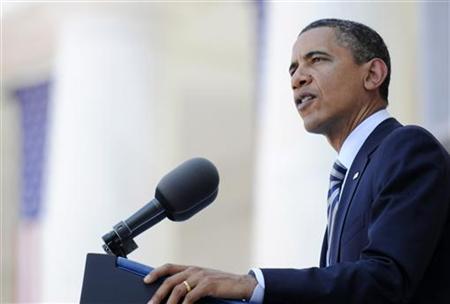 President
Barack Obama
will weigh new steps to boost hiring in a visit on Monday to
North Carolina
, as he tries to reassure voters over his handling of the economy after a string of disappointing news.Jobs hold the key to his re-election hopes next year and the president will hear a batch of fresh ideas from top business leaders on his jobs council, led by
General Electric Corp
chief
Jeffrey Immelt
, about how to spur employment.
But with congressional Republicans determined to cut government spending in return for raising the country's $14.3 trillion debt limit, there is little likelihood of additional public cash to finance fresh hiring.
Obama warned Americans in his weekly radio address on Saturday it was "going to take time" to heal the economy, but said he would talk with the business leaders about additional measures that could boost U.S. employment
Immelt, in a joint opinion piece with American Express Co. boss Ken Chenault in the Wall Street Journal on Monday, said the panel would present Obama with an initial report recommending steps that could help create a million jobs.
"The economic decisions we make now will determine American job creation and competitiveness in the years to come. Government, business and labor need to work together to get this done," the two chief executives said.
As well as meeting his jobs panel, Obama also will visit a clean energy plant in Durham, North Carolina, a state he won by a small margin in 2008, before heading to fundraisers in Florida, another state vital to his re-election hopes in 2012.
The Democratic president's approval rating slipped after disappointing economic data sapped Americans' confidence, erasing the bump in popularity he saw after U.S. commandos killed al Qaeda leader Osama bin Laden last month.
VOTER CONCERNS
A weak jobs report in May, in which unemployment rose to 9.1 percent from 9 percent in April, hardened national unease over the economy, which many Americans think has barely climbed out of recession.
Polls show that jobs and growth are now dominant concerns for voters, and Obama must improve confidence in the country's future to secure a second White House term.
On Tuesday, he pays Puerto Rico its first official presidential visit in 50 years, acknowledging the territory's contribution to the United States that honors a slice of the Hispanic electorate important to next year's campaign.
U.S.-based Puerto Ricans represent an important voting bloc in key states like Florida, Pennsylvania and Virginia, which will all be important to Obama's re-election hopes. Hispanics went heavily for Obama in 2008, but have been disappointed by his failure to deliver promised immigration reform.
In Durham, Obama will tour the U.S. manufacturing headquarters of Cree, which makes energy-efficient light emitting diodes (LED), before hearing suggestions from his jobs and competitiveness council.
It is the second meeting of the full panel, which Obama inaugurated in March to brainstorm on the economy.
Senior Obama adviser Valerie Jarrett said the measures would include a blend of short-, medium- and long-term suggestions to aid business and the economy. "Many of them can be done without spending any public money" she said.
Unemployment in North Carolina is above the national average at 9.7 percent in April. In Florida, hit hard when the U.S. housing market imploded in 2008, it as 10.8 percent
Obama won North Carolina by fewer than 14,000 votes in 2008, the first time since 1976 that the state when for a Democratic presidential candidate.
He was more comfortably ahead of Republican opponent John McCain in Florida, carrying it with more than 200,000 votes.
WASHINGTON (Reuters) – By Alister Bull(Editing by Doina Chiacu)