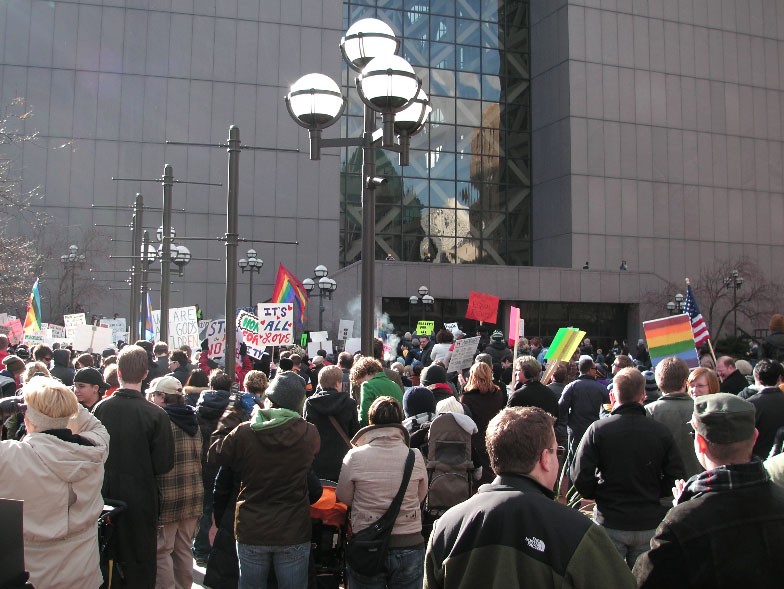 A U.S. federal judge sharply questioned foes of gay marriage on Monday in a hearing about whether a ruling by a homosexual judge in favor of same-sex marriage should be thrown out.U.S. District Judge
Vaughn Walker
in
San Francisco
last year struck down
California
's same-sex marriage ban, known as Proposition 8, and supporters of the ban now say he was biased and his ruling should be vacated. The case was immediately appealed to the 9th U.S. Circuit
Court of Appeals
.
The case could set national policy if it reaches the U.S. Supreme Court and is being watched throughout the nation, where same-sex marriage is legal in only a handful of states.
In a packed courtroom on Monday, Chief U.S. District Judge James Ware heard the case, taking over since Walker retired earlier this year. About 30 people demonstrated outside the courthouse in support of same-sex marriage before the hearing began.
Ware, a black judge nominated to the bench by Republican President George H.W. Bush, aggressively questioned Charles Cooper, the lawyer defending California's marriage ban.
"If a reasonable person thought a black judge should recuse himself from a civil rights case, that would be sufficient to recuse the judge?" Ware asked.
"No, your honor," Cooper responded.
Ware also asked Cooper if a judge presiding over a sexual assault trial should disclose intimate personal details — including whether she had been raped.
The judge must disclose "any information" that might be relevant to the parties or the lawyers, Cooper said.
Ware said he would like to issue a written ruling on the matter within 24 hours.
'IN THE SAME SHOES'
Shortly after Walker retired, he discussed his homosexuality in the press for the first time, saying he is in a 10-year relationship with a physician.
Even though Walker is in a long-term relationship, there was no evidence that he wanted to marry, Ware said on Monday. But Cooper said the fact of his relationship put him "in the same shoes" as the two gay couples suing for the right to marry.
Theodore Boutrous, a lawyer for the couples, called the attempt to vacate Walker's ruling offensive.
"Their motion is targeting Judge Walker's sexual orientation, no matter how they try to camouflage it," Boutrous said.
Opponents of gay marriage are asking that Walker's ruling be vacated, arguing that he had a duty to disclose his relationship or recuse himself from the case.
Lawyers for the two gay couples challenging the ban say Walker's relationship should have no bearing on the case. If it did, black judges and women judges could similarly be prevented from hearing civil rights cases, they said in court filings.
Ware said this is the first time a federal court has addressed recusal involving a gay judge. He repeatedly stressed the subject's importance.
If the facts supporting same-sex marriage are strong, Ware asked, what would be the harm if Walker's ruling were set aside and a different judge weighed in? Such a decision would set a terrible precedent, Boutrous responded.
The 9th Circuit is still considering the constitutional issues surrounding gay marriage, and it has asked the California Supreme Court to weigh in on one point of state law.
The case in U.S. District Court, Northern District of California is Perry v. Schwarzenegger, 09-2292.
SAN FRANCISCO (Reuters) – By Dan Levine(Reporting by Dan Levine; Editing by Peter Henderson and Will Dunham)