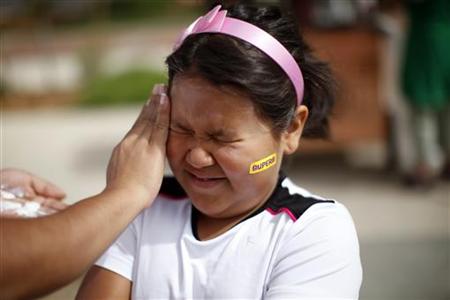 Sunscreens that claim to reduce the risk of skin cancer will need to protect against both ultraviolet A and B rays and have a sun protection factor (SPF) of 15 or higher, according to new U.S. rules issued on Tuesday.The long-awaited labeling changes by the U.S. Food and Drug Administration are aimed at giving consumers more information on how to protect themselves from the risk of skin cancer and early aging, as well as prevent sunburn.
Sunburn is primarily caused by ultraviolet B (UVB) radiation, while both UVB and UVA radiation contribute to skin cancer and early aging.
"We're establishing a standard for the United States," Dr. Janet Woodcock, director of the Center for Drug Evaluation at the Food and Drug Administration, said in a news briefing.
The new rules ensure that all sunscreens that claim to be "broad spectrum" pass a standardized test for both UVA and UVB protection. And the proportion of protection from UVA and UVB rays must increase in proportion to increases in SPF levels.
Sunscreens that meet the new test for broad spectrum protection and also are SPF 15 or above can for the first time include the statement: "Used as directed can reduce the risk of early skin aging and skin cancer when used with other sun protection measures."
Those measures include wearing protective clothing and seeking shade when possible.
The changes will affect sunscreen manufacturers, including Merck & Co Inc, maker of the Coppertone brand; Johnson & Johnson, maker of the Neutrogena brand; and Energizer Holdings, maker of the Banana Boat and Hawaiian Tropic brands.
The FDA has been considering updating sunscreen regulations since 1978. The agency released a proposed rule in 2007 that included a separate star system for UVA radiation, but Woodcock said many manufacturers and others worried that system would be too confusing for consumers.
She said the "broad spectrum" label is intended to assure consumers of adequate protection from both types of radiation, and the SPF factor gives them a sense of how long they are protected.
All sunscreens will also be required to include a drug factbox, which may include a warning to consumers if a sunscreen does not meet the minimum standards of sun protection.
'WATERPROOF' OUT; 'WATER RESISTANT' IN
The FDA also said sunscreens will no longer use the term sunblock and waterproof because those claims are misleading. Instead of waterproof, sunscreen makers may use the term water resistant as long as they indicate the length of time the product resists water.
Woodcock said consumers will begin to see label changes no later than the summer of 2012, but many manufacturers are expected to start making them sooner.
The agency also addressed concerns that the ingredients of sunscreens contain ultra tiny nanoparticles.
Woodcock said animal tests done by the FDA found no evidence that sunscreens that contain nanoparticles of ingredients such as zinc oxide and titanium dioxide pose a threat.
"We found the particles do not penetrate the skin," Woodcock said, "If we were to determine any active ingredient does not meet safety standards for drugs, the FDA will notify the public and remove them promptly."
In addition to the final rule, the FDA released other documents to give industry an idea of additional changes it is considering.
The FDA is proposing a rule that would prevent sunscreens from claiming a higher SPF rating than 50 because ratings higher than 50 do not add a significant additional benefit.
And the FDA intends to study whether aerosol sunscreens offer adequate protection and whether inhaling the product poses any safety concerns.
These products are often used on children because they are easier to apply. Woodcock said until then, parents should ensure that children hold their breath while the sunscreen is being sprayed.
CHICAGO (Reuters) – By Julie Steenhuysen(Editing by Mohammad Zargham)