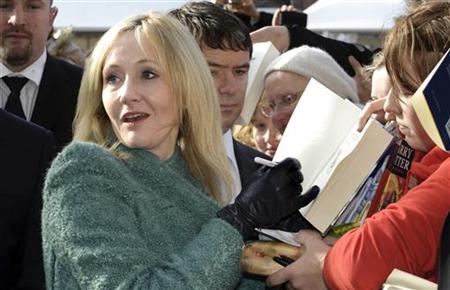 Harry Potter creator J.K. Rowling has launched a new website called "Pottermore," but fans of the boy wizard will have to wait to see what it entails as the entry page says simply "Coming Soon…."
The site, http://www.pottermore.com, was launched a month ahead of the release of the eighth and final Potter movie on July 15.
Some Potter fansites, which have been instrumental in generating a large and loyal fan base for the movies and seven-book series on which they are based, were given a sneak preview of the mysterious new website.
"It is, in a word, breathtaking," wrote Leaky Cauldron, one of the leading Potter sites. "That is all we are permitted to say at the moment."
Rowling and Potter studio Warner Bros. have never shied away from building up the hype ahead of key releases in the series.
The Harry Potter novels have sold more than 400 million copies worldwide, while the seven movies released so far have grossed some $6.4 billion in ticket sales. Rowling has been billed the "world's first billionaire author."
Rowling's spokesman and literary agent did not immediately reply to emailed questions about the website.
LONDON (Reuters) -  (Reporting by Mike Collett-White; Editing by Steve Addison)