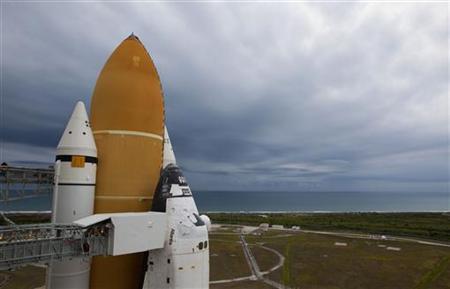 Workers at the
Kennedy Space Center
filled the fuel tank of the space shuttle Atlantis on Wednesday in a key test ahead of its scheduled launch next month on the final shuttle flight.The test was added after structural problems were found last year on a tank later used for the February launch of sister ship Discovery. NASA reinforced metal supports inside both tanks. Wednesday's test was to verify the Atlantis tank repairs ahead of its scheduled July 8 liftoff.
"It's very straight-forward," said launch director Mike Leinbach. "We fill it up, send the final inspection team out to the pad, they'll do their walk-down … and then we'll get the 'go' for drain. That's it."
A week's worth of X-ray photography will follow to assure that the metal struts withstood the extreme temperatures generated by 500,000 gallons (1.89 million liters) of liquid oxygen and liquid hydrogen inside the tank.
NASA was assessing what seemed to be a valve leak in one of the shuttle's three main engines that appeared during the tank test. If the valve needs to be replaced, preliminary indications show the work could be done without impacting the targeted July 8 launch, NASA spokesman Allard Beutel said.
The tank test is one of the final milestones before NASA launches Atlantis and four astronauts on a supply run to the International Space Station, a 12-day mission that is set to close out the 30-year-old U.S. space shuttle program.
An Italian-built shipping container holding 9,500 pounds of food, clothing, science gear and supplies for the station is due to arrive at the launch pad on Thursday and be loaded into the shuttle's payload bay on Friday.
In addition to the cargo, the shuttle is set to deliver an experiment to demonstrate how satellites can be robotically refueled in orbit, a potential game-changer in an industry worth more than $160 billion a year.
Hundreds of communications, weather and other satellites are currently circling the Earth but none are designed to be refueled. Once their fuel is spent, they can no longer reboot themselves or change position and maneuver, and they become expensive space junk.
The Robotic Refueling Mission is a special assignment for Dextre, the Canadian-built robot attached to the space station's 55-foot (16.7-meter) external crane. Over the next two years, ground controllers will use Dextre to demonstrate how the robot can handle various tasks associated with fueling a satellite and handling minor repairs.
NASA is retiring its three-ship shuttle fleet due to high operating costs. It has hired two commercial companies, Space Exploration Technologies and Orbital Sciences Corp, to take over cargo deliveries to the station and hopes to do the same for crew transportation within five years.
Until then, the United States will pay Russia to taxi astronauts to the station, at a cost of more than $50 million per person.
CAPE CANAVERAL, Florida (Reuters) – By Irene Klotz(Editing by Jane Sutton; Editing by Will Dunham)