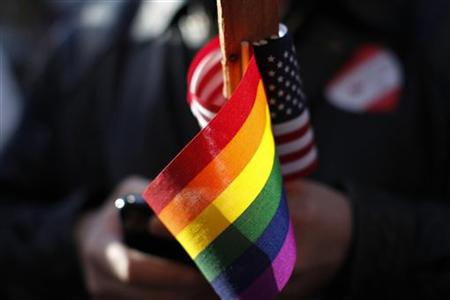 New York
could become the sixth state to allow gay marriage if one more Republican senator supports the move in a possible vote Friday.The state-by-state battle over gay marriage has become a contentious social issue ahead of the presidential and congressional elections. Five states and the
District of Columbia
allow gay marriage and four states have civil unions.
Two Republican senators have already publicly said they will back the marriage equality bill introduced by Governor Andrew Cuomo, a Democrat, while one Democrat senator opposes it — leaving New York's 62 member upper house split.
Republican senators spent several hours privately discussing same-sex marriage Wednesday and met again on Thursday, when they were joined by New York City Mayor Michael Bloomberg, a supporter of gay marriage.
Many observers say at least two or three Republicans would need to agree to support legalizing gay marriage to avoid a single senator becoming known for casting the deciding vote, which would be unpopular with some conservative voters.
With lawmakers set to break for summer recess Monday, it still remained unclear if the measure would succeed or fail. A vote could be held Friday although timing is uncertain.
"I asked them to follow their hearts and their principles, and if they do I believe New York will become the next state to pass marriage equality," Bloomberg told reporters.
Senate Majority Leader Dean Skelos said the mayor gave "a thoughtful presentation."
The Democrat-dominated Assembly voted 80 to 63 in favor of the bill Wednesday and if it is passed by the senate, New York would become the most populous U.S. state to allow gay marriage approved by lawmakers.
In California a judge last year overturned a ban on gay marriage, but no weddings can take place while the decision is being appealed. It could set national policy if the case reaches the Supreme Court.
Connecticut, Iowa, Massachusetts, New Hampshire, Vermont and the District of Columbia allow same-sex marriage, and Delaware, Hawaii, Illinois and New Jersey approved civil unions. But gay marriage is specifically banned in 39 states.
The first legal same-sex marriages in the United States took place in Massachusetts in 2004.
During the debate in New York's lower house, Assemblywoman Deborah Glick, the first openly gay member of the New York state legislature, asked that lawmakers "respect the humanity of the LGBT (lesbian, gay, bisexual and transgender) people who are your constituents."
Along with Bloomberg, lobbyists from both sides of the debate headed to the state capital Albany this week.
"Sex and the City" actress Cynthia Nixon and New York Ranger ice hockey player Sean Avery were in Albany Tuesday to push for legalizing gay marriage. Nixon has been engaged for two years to a woman and wants to get married in her home state.
Rev. Duane Motley, a Christian lobbyist, said in Albany on Wednesday that legalizing gay marriage would "undermine the stability of our society" because he said a child of a gay couple could only have one biological parent.
Cuomo has political capital to spend with the Republicans after closing a $10 billion budget gap without raising taxes.
The issue may also help Cuomo solidify his liberal base after he alienated many with an austere budget that cut spending on education, healthcare and social programs. He also angered some Democrats by opposing the extension of an income tax surcharge on the state's wealthiest residents.
A recent Siena poll found 58 percent of New Yorkers support same-sex marriage.
If the bill passes, same-sex couples could start marrying in New York 30 days later. The bill does not compel any member of the clergy to conduct same-sex marriages.
ALBANY (Reuters) – By Dan Wiessner(Writing by Michelle Nichols, editing by Mark Egan and Cynthia Osterman)