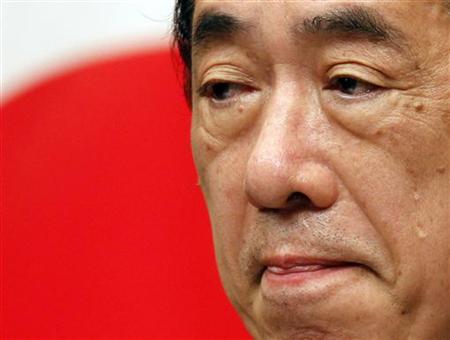 Japan's government
on Monday delayed endorsing tax and social security reforms aimed at curbing huge public debt amid reports that unpopular Prime Minister
Naoto Kan
would not keep his pledge to quit until key legislation was enacted.The latest political dithering comes as
Japan
struggles to contain a nuclear disaster at
Tokyo Electric Power Co's Fukushima plant
and rebuild from the massive March 11 earthquake and tsunami that devastated its northeast region.
The ruling Democratic Party of Japan's (DPJ) panel on tax and social security reforms failed to sign off on a government proposal to raise the sales tax in stages to 10 percent by the fiscal year starting in April 2015 after several lawmakers sought assurances that taxes would not be raised until the economy was strong enough to cope with the impact.
"We can't decide on this today. What we should do is to give our proposals to the government and debate the matter further," Hiroshi Ogushi, a member of the party panel, told reporters.
"Looking at the atmosphere in this room, I don't think the government can hold its meeting on taxes today. We have to work more with the government," said Sakihito Ozawa, the panel's No. 2 official.
A meeting of government ministers and party that had been scheduled to endorse the plan was subsequently postponed.
A delay on the finer details of the plan would do little to soothe worries of credit ratings agencies about Japan's large public debt and persistent political deadlock.
Authorities have vowed to decide on the tax and welfare reform by June 20, fearing that failing it could undermine credibility of Japan's fiscal discipline in financial markets.
Raising the sales tax in stages to 10 percent by 2015/15 could generate around 12.8 trillion yen ($160 billion) in extra revenue for the central government and regional governments.
Kan plans to earmark most sales tax revenue for welfare.
Even if the unpopular premier could win intraparty backing for the tax and welfare reforms, the government still needs opposition votes to pass bills in a divided parliament.
But opposition parties are refusing to cooperate while Kan stays in his post.
TO QUIT, OR NOT TO QUIT
Kan, already Japan's fifth premier in as many years, survived a no-confidence vote earlier this month after promising critics in his own party he would quit over his handling of the March 11 earthquake, but declined to say when.
Kan wants to oversee passage of three laws — one enabling bond issuance to help fund the $1 trillion budget for the year from April, a second extra budget to deal with the aftermath of the tsunami, and a bill introducing a feed-in-tariff system to promote renewable energy sources, Kyodo news agency quoted the DPJ's No. 2 as telling opposition counterparts.
Party Secretary-General Katsuya Okada also proposed extending the current session of parliament, set to end on Wednesday, for four months and said the government wanted to submit a third and bigger extra budget to fund rebuilding from the disasters by early September, Kyodo said.
Concerned about Japan's huge debt and political deadlock, ratings agencies are threatening to downgrade the country's sovereign debt.
Social security spending accounts for almost a third of the state budget, which totals 92.4 trillion yen for the fiscal year that started in April and grows steadily due to an aging population.
But even a credible plan to raise taxes and cut healthcare spending probably will not prevent a downgrade as long-term growth prospects are weak, Moody's Investors Service said last month when it decided to review Japan's rating. Standard & Poor's and Fitch also have a negative outlook on Japan.
TOKYO (Reuters) – By Stanley White(Additional reporting by Kiyoshi Takenaka and Chisa Fujioka; Writing by Tetsushi Kajimoto and Linda Sieg; Editing by Sugita Katyal)