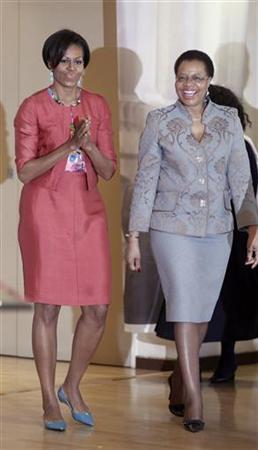 First Lady
Michelle Obama
paid a visit to
Nelson Mandela
Tuesday on the first day of her visit to
Africa
, the
Nelson Mandela Foundation
and the
White House
said.Obama, accompanied by her mother and two daughters, visited the 92-year-old former South African President and anti-apartheid icon at his home in Johannesburg's Houghton suburb. The Foundation described it as a courtesy call.
Photographs of the meeting released by the White House show a smiling First Lady and her daughters Sasha and Malia sitting next to Mandela on a couch at his home.
Mandela hasn't been seen in public since he was hospitalized in January.
He paid a visit to his home village in May, the first since he spent several days in hospital in January for a respiratory disease. Since then he has received medical care at home.
Mandela retired from public life in June 2004 before his 86th birthday, telling his adoring compatriots: "Don't call me, I'll call you." Since then he has rarely appeared in public and when he did, he appeared increasingly frail.
Mrs. Obama earlier visited the foundation offices, viewing a display of archival items including Mandela's prison desk, calendars and notebooks.
The foundation quoted Obama as saying after viewing the display: "You are doing very important work."
The U.S. First Lady arrived in South Africa late Monday and earlier met Nompumelelo Zuma, one of President Jacob Zuma's wives, in the capital Pretoria.
The visit by Mrs. Obama to South Africa and Botswana is her second official solo journey abroad with a goal of advancing U.S. policies on education, health, and democracy.
JOHANNESBURG (Reuters) – By Jeff Mason(Writing by Marius Bosch; Editing by Jan Harvey)