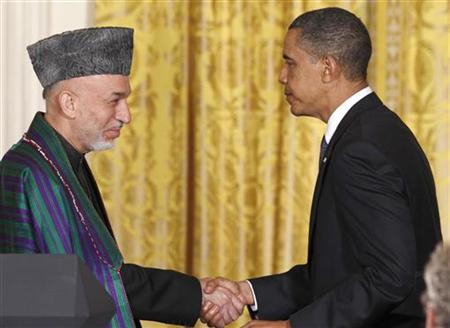 The
Obama administration
's ties with Afghan President
Hamid Karzai
remain solid despite an unusual public rebuke from the U.S. envoy to
Kabul
this weekend, Karzai's ambassador to Washington said on Monday.Ambassador
Eklil Hakimi
sought to downplay the significance of remarks over the weekend by U.S. Ambassador
Karl Eikenberry
, who complained in surprisingly blunt terms about "hurtful and inappropriate" comments from
Afghanistan
's political leaders — a clear reference to Karzai.
"There are many positive things in the bigger picture" that underpin bilateral ties, Hakimi said in an interview with Reuters. "But there are minor things that happen too. We have an old saying: a true friend is someone who can tell you the things that make you cry."
Yet such candor — friendly or otherwise — comes at a sensitive moment as NATO-led forces prepare to begin handing off to local troops and as Afghanistan and the United States negotiate a deal outlining their long-term relationship.
A day before Eikenberry spoke, media reported comments from Karzai, which a spokesman said were misunderstood, appearing to confirm for the first time direct U.S. contacts with the Taliban, a tightly held initiative to strike a peace deal that may have caught President Barack Obama's administration off guard.
While a surge of 30,000 extra U.S. troops last year helped push the Taliban out of some areas of the Afghan south, violence has intensified and the insurgency has taken on a new ferocity along the western border with Pakistan.
The Obama administration is struggling to prove to a skeptical Congress that costly efforts to improve governance, fight drugs, and foster prosperity for Afghans are paying off.
Almost 10 years after Karzai came to power with Western backing, Hakimi said leaders in Kabul and Washington were working side by side on security, reconstruction and embryonic efforts to negotiate a political settlement with the Taliban.
But ill will in Congress has been fueled by repeated censure from Karzai, who said only a few weeks ago that NATO troops were at risk of being seen as an occupying force.
United Nations figures show that at least three-quarters of civilian casualties are caused by insurgents, years of accidental civilian deaths in Western airstrikes have fueled anger among Afghans and put pressure on Karzai.
The Afghan leader has also taken the West to task for management of its multibillion-dollar aid efforts.
HOT AND COLD
Yet Karzai has at other times enjoyed a warm relationship with his foreign backers.
Hakimi acknowledged Karzai been critical at times, but with good reason. "We're on the front line. Our sons, our daughters, our elders are killed. We are paying the actual cost."
U.S. ties with Karzai may improve when Obama's new ambassador-designate Ryan Crocker, a veteran diplomat who has served previously in Afghanistan, arrives in Kabul to replace Eikenberry, whose ties with Karzai were famously strained.
In secret diplomatic cables made public by WikiLeaks, Eikenberry questioned Karzai's abilities as a leader, called him insecure, and faulted him for a "'blame America' tactic he uses to deflect criticism of his administration."
Relations began to falter after Richard Holbrooke, the late U.S. regional envoy, clashed with Karzai over allegations of fraud during presidential polls in 2009. Holbrooke, who died suddenly last year, was replaced by the lower-key Ambassador Marc Grossman.
White House spokesman Jay Carney said Washington consulted with Karzai often and shared concerns about civilian deaths.
"But again, we're not going to apologize for the contributions that we make, both civilian and military, in Afghanistan," Carney told reporters.
After Karzai alluded to U.S. contacts with the Taliban over a possible settlement to the war, Defense Secretary Robert Gates confirmed there had been preliminary contacts in recent weeks between the United States, other nations, and the Taliban.
WASHINGTON (Reuters) – By Missy Ryan(Additional reporting by Matt Spetalnick; Editing by Christopher Wilson)