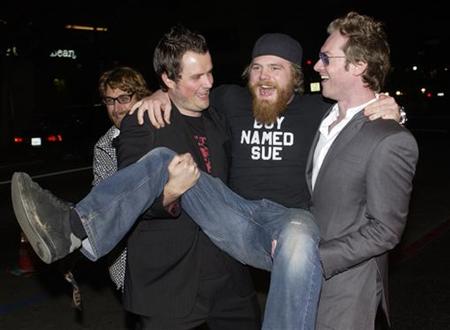 Ryan Dunn
, a co-star of the hit "Jackass" movies, had a blood-alcohol level more than twice the legal limit when his speeding Porsche careened off a highway, killing him and a passenger, police said Wednesday.The sports car was traveling at speeds of up to 140 miles per hour when the crash occurred early Monday in West Goshen, a suburb of
Philadelphia
, police said.
Dunn's blood-alcohol reading was 0.196, according to a toxicology report released by authorities. The legal limit in Pennsylvania is 0.08.
It wasn't the first time the daredevil personality, 34, got behind the wheel after drinking, authorities said, noting he was cited for driving under the influence in 2005.
Dr. Kendel Kidwell, a physician who is head of the emergency medicine department at suburban Abington Hospital said people who are not heavy drinkers would be impaired with a 0.196 blood alcohol level. They would suffer from an altered perception of their surroundings, slowed reflexes, slurred speech and an inability to concentrate, he said.
Heavy drinkers, however, would be able to "walk around normally," and in fact could suffer withdrawal symptoms if the level fell, he said.
The police report also said no "drugs of abuse" were found in Dunn's system.
The Chester County Coroner's office earlier ruled that Dunn and his passenger, Zachary Hartwell, 30, both of West Chester, died of trauma.
Police said the car drove off the highway, and they found it in a nearby wooded area fully engulfed in flames.
Several private funeral services were scheduled for Dunn, including one that was held on Wednesday, and they will be followed by a public memorial service at a date yet to be determined, said a spokesman for the DellaVecchia, Reilly, Smith and Boyd funeral home in West Chester.
A funeral for Hartwell, a Navy veteran who served as a gunner's mate in Operation Enduring Freedom in Afghanistan, was scheduled for Saturday in West Chester, according to a notice published in a local newspaper.
PHILADELPHIA (Reuters) – By Dave Warner(Editing by Barbara Goldberg and Bob Tourtellotte)