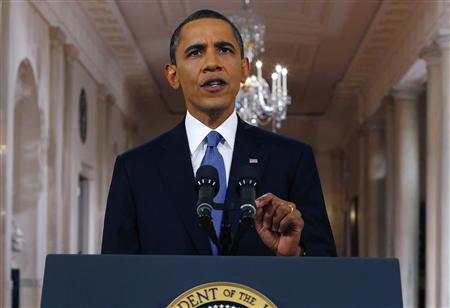 President
Barack Obama
announced a phased pullout of troops to end a costly war in
Afghanistan
, but the country faced fresh turmoil after a court overturned results from last year's fraud-tainted parliament election.Obama's plan to withdraw 10,000 troops by the end of the year and a further 23,000 by the end of next summer won immediate support from
France
's president who promised to follow suit.
About 70,000 U.S. soldiers will, however, remain in Afghanistan even after the cuts announced by Obama, about twice the number when he took office.
Afghan President Hamid Karzai, Washington's ally in an relationship made uneasy by allegations of incompetence and corruption, welcomed the plan for a gradual pullout and said Afghans increasingly trusted their security forces.
European nations which have contributed troops to the military effort against the Afghan Taliban insurgency said they would also proceed with phased reductions.
But the Taliban, resurgent a decade after being toppled from power following the September 11, 2001, attacks, dismissed the announcement and said only a full, immediate withdrawal of foreign forces could stop "pointless bloodshed".
They rejected any suggestion of U.S. military gains.
In a prime-time televised appearance on Wednesday, Obama said he would withdraw 10,000 troops from Afghanistan by the end of 2011, with a further 23,000 by the end of next summer. Remaining troops would be steadily withdrawn after that.
He vowed that the United States — struggling to restore its global image, shore up the economy and reduce unemployment at home — would exercise new restraint with military power.
"Tonight, we take comfort in knowing that the tide of war is receding," Obama said in a 15-minute statement, heralding the gradual reduction of U.S. forces in Iraq and limited U.S. involvement in the international air campaign against Libya.
"America, it is time to focus on nation building at home."
But diplomats said Afghanistan, already subject to fierce international criticism for corruption and instability, could be plunged into a new crisis by the court's ruling striking down results for 62 parliament seats in a 249-seat assembly.
The country has been in a state of political paralysis since the September 18 election, with a full cabinet still not finalized after weeks of squabbling.
The United States also plans to pull back hundreds of civilian advisers helping govern Afghanistan and cuts in billions of dollars in aid are also likely.
The Taliban have been pushed out of some areas of their southern heartland, but the insurgency has intensified along Afghanistan's eastern border with Pakistan and U.S. commanders are expected to shift their focus to that area.
U.S. and NATO forces, with Britain and Germany supplying the next largest contingents, have been unable to deal a decisive blow to the Taliban, in power in Afghanistan from 1996 to 2001.
Senator John Kerry, the top Democratic voice in foreign affairs in the U.S. Congress, said resolving the problems of Afghanistan and Pakistan needed "more diplomacy, less military effort."
"Everybody has consistently said there is no military solution (in Afghanistan). … I believe what the president is doing is creating the dynamic where the political has a greater possibility of taking shape," Kerry, chairman of the Senate Foreign Relations Committee, said on the CBS "Early Show" program.
EUROPE CALLS FOR GRADUAL PULLOUT
France, Germany and Poland said they would proceed with a gradual drawdown.
French President Nicolas Sarkozy, like Obama seeking re-election next year, said in a statement that he would oversee a pullout "in a proportional manner and in a calendar comparable to the withdrawal of American reinforcements". France's 4,000-strong contingent is the fourth largest in Afghanistan.
German Defense Minister Guido Westerwelle said his country, with 4,800 troops in the increasingly violent north, hoped by the end of the year "to be able to reduce our own troop contingent for the first time".
The head of Poland's National Security Bureau, General Stanislaw Koziej, told TVN24 television that Warsaw's strategy "is similar to Obama's as we will begin reducing our presence this year and by 2014 withdraw entirely".
Poland has about 2,500 troops in Afghanistan.
British Prime Minister David Cameron vowed the U.S. drawdown did not mean any let up in pressure against the insurgency.
A Chinese Foreign Ministry spokesman "noted" Obama's plan and urged all parties to "truly shoulder their responsibility in the course of handing over power for Afghanistan's security".
Obama's plan, which will bring home the entire "surge" force he sent to Afghanistan in 2010, pits him against military advisers unhappy at the prospect of any hasty drawdown.
The cuts went further than many expected, in particular options offered by General David Petraeus, outgoing commander of U.S. and NATO troops in Afghanistan, now due to lead the CIA.
The debate over U.S. involvement in Afghanistan has shifted since U.S. special forces killed al Qaeda leader Osama bin Laden in Pakistan last month.
The Obama administration has since argued forcefully that it must adopt a narrow, defensive approach to Afghanistan, focusing on havens insurgents can use to launch attacks.
A senior military official in Pakistan, where Washington has been seeking intensified efforts against militants, said Obama's strategy would be successful if accompanied by "a robust and strong political effort" to engage the Taliban.
"But right now we don't see any such strong effort so it is difficult to say it is good."
Obama said Washington would continue to support efforts toward a political settlement. While officials acknowledge a peace deal with the Taliban may be far in the future, Obama said there was "reason to believe" that progress could be made.

WASHINGTON/KABUL (Reuters) – By Missy Ryan and Paul Tait(Additional reporting by Susan Cornwell, Laura Macinnis, Phil Stewart and Alister Bull in Washington and David Brunnstrom in Brussels and Hamid Shalizi in Kabul; Writing by Ron Popeski; Editing by Sanjeev Miglani)