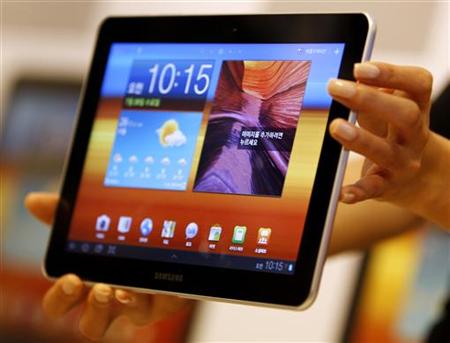 Samsung Electronics has delayed the Australian launch of its latest
Galaxy tablet
due to a patent dispute with
Apple
Inc, a setback for the South Korean firm's attempt to close the gap with
Apple
in the booming tablet market.Samsung and
Apple
have been locked in an acrimonious battle over
smartphones
and tablets patents since April, but this marks the first time the legal tussle has delayed the launch of a product by Samsung.
Apple alleged Samsung's Galaxy line of mobile phones and tablets "slavishly" copied the iPhone and iPad and had launched lawsuits in the United States, Australia and elsewhere. Samsung has countersued Apple.
On Tuesday, Samsung said it had agreed with Apple not to sell a variant of the tablet in Australia yet.
"A Samsung GALAXY Tab 10.1 for the Australian market will be released in the near future. This undertaking does not affect any other Samsung smartphone or tablet available in the Australian market or other countries," the Korean company said in a statement.
Apple is one participant in a web of litigation among phone makers and software firms over who owns the patents used in smartphones, as rivals aggressively rush into the smartphone and tablet market which the U.S. company jumpstarted with the iPhone and iPad.
"… The fact that Samsung didn't just stand up to defend the U.S. version of the Galaxy Tab 10.1 serves as an indication that Apple's allegations probably have some merit," Florian Mueller, a technology specialist and blogger on patent battles, said on his blog FOSS Patents.
The Australian case against Samsung is being heard in a Federal Court in Sydney.
BIGGEST CHALLENGE
The Galaxy gadgets are seen as among the biggest challengers to Apple's mobile devices, but Samsung has so far been unable to approach the Silicon Valley company's roaring sales growth. Galaxy products use Google's Android operating system.
Last month, Samsung launched a thinner and lighter version of its Galaxy tablet in its lucrative home market, trying to eat into blockbuster sales of Apple's iPad.
"The point is, if this is contained in just Australia, then it's not going to move the needle too much," said Bryan Ma, an analyst with industry research firm IDC in Singapore. "If it's just Australia, that's just a small part of the global market."
IDC said media tablet shipments to Australia were only 2.4 percent out of global shipments of 7.2 million units in the first quarter.
The intensifying quarrel between Samsung and Apple had triggered expectations some of the pair's $5 billion-plus relationship may be up for grabs. Samsung counts Apple as its biggest customer and makes parts central to Apple's mobile devices.
LEGAL WRANGLING
According to Federal Court documents, an application from Apple sought to prevent Samsung from being allowed to "import, promote… offer for sale or sell in Australia the Galaxy Tab 10.1," unless it has the agreement of Apple or the court.
Apple had also requested that all samples of the Galaxy Tab 10.1 be delivered to Apple so it could destroy them, the court papers showed.
"It is not that we will not sell the Galaxy Tab until the legal case ends. We will sell it when certain conditions are met as we continue talks with Apple," said a spokesman from Samsung.
A spokeswoman for Samsung in Australia said the original launch date in the country was August 11 but the Seoul-based spokesman said this had not been finalized and the company was only delaying the launch event.
The next Federal Court hearing is set for August 29.
The case is Apple Inc. v. Samsung Electronics Co. NSD1243/2011. Federal Court of Australia (Sydney).

SEOUL/MELBOURNE (Reuters) – By Hyunjoo Jin and Victoria Thieberger(Additional reporting by Poornima Gupta in SAN FRANCISCO and Lee Chyen Yee in HONG KONG; Writing by Anshuman Daga; Editing by Lincoln Feast)