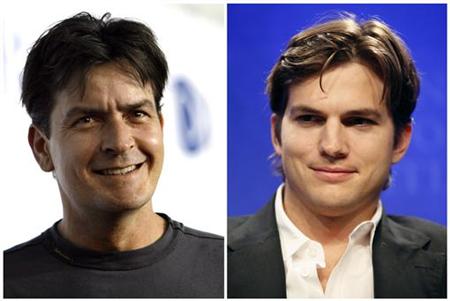 Charlie Sheen's "Two and A Half Men" character will not only be killed off, he will be given a funeral when the TV series returns in September, according to entertainment industry Web site Deadline Hollywood.
The screen demise of Sheen — whose role on the TV comedy made him the highest-paid actor in Hollywood — follows his firing from the show after a vicious public spat earlier this year with "Two and A Half Men" co-creator and producer Chuck Lorre.
Now Lorre appears set to exact revenge when the comedy returns with new star Ashton Kutcher in what Deadline Hollywood said is a secrecy-shrouded two-part season premiere that will be filmed later this week.
Broadcaster CBS and program makers Warner Bros. Television declined to comment on the report.
Sheen's womanizing bachelor character Charlie Harper — said to be a close version of himself — helped to make "Two and A Half Men" the most-watched comedy on U.S. television.
But Deadline Hollywood said Harper would die and his Malibu beachfront house would be put up for sale in a two-part season opener, allowing Kutcher's character to be introduced as a potential buyer.
Sheen was fired from the show in March after insulting Lorre in a bizarre series of interviews that followed months of drug and drink-fueled partying and repeated spells in rehab.
Kutcher, the creator of TV series "Punk'd" and the husband of actress Demi Moore, was hired in May as a new character on the series.
Sheen has since signed a deal for a new TV series called "Anger Management," but the show has not yet been picked up by any U.S. television networks.
LOS ANGELES (Reuters) -  (Reporting by Jill Serjeant)