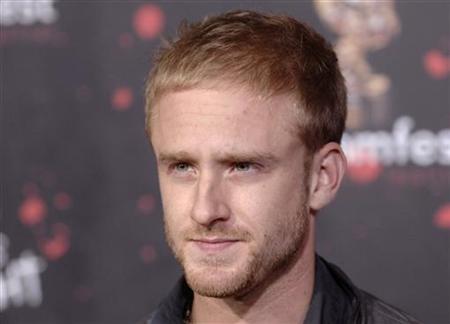 Actor Ben Foster has landed the lead role in the upcoming movie about crime boss John Gotti and his son, producers said on Tuesday.
But Lindsay Lohan's role in "Gotti: In the Shadow of My Father" appeared to be in doubt after producers said she had not officially signed onto the movie and they were still in talks with her.
Foster, 29, best known for roles in "The Messenger" and 3:10 to Yuma", will play John Gotti Jr. opposite John Travolta, who has already been cast as the late head of New York's powerful Gambino family, John Gotti.
Lohan's casting as Kim Gotti, the wife of John Gotti Jr, was announced in May. But Steve Honig, a spokesman for both Fiore Films and Lohan said on Tuesday that "the producers of the film and Lindsay's representation have not yet worked out an agreement for her to appear in the movie. At this point, we cannot provide a definitive answer either way.
"Fiore is still very much in talks with Lindsay Lohan to play the role of Kim Gotti," Honig added.
Lohan, 25, whose career has been derailed by repeated trips to jail and rehab since 2007, has not had a movie role since the low-budget 2010 release "Machete." The Gotti film, because of its high profile and Lohan's ongoing recovery, was thought to be a positive step in her return to Hollywood's A-list.
Producers declined to comment on the apparent stumbling block. But it follows a change of director from Nick Cassavetes to Barry Levinson, and a lawsuit brought by actor Joe Pesci last week who claimed his part had been changed and his pay cut.
Lohan's legal woes — she remains on probation for a January jewelry theft and has still to complete community service — are not thought to be an issue.
Pesci's role is also undetermined following his lawsuit, which producers Fiore Films have said has "no merit". Pre-production on "Gotti: In the Shadow of My Father" starts in September and shooting is due to start in January.
Levinson described Foster as "one of the few young actors who can literary transform himself from role to role, from light comedy to a deadly gunslinger…I think he can bring something very memorable to the role of Gotti Jr."
Fiore Films acquired from John Gotti Jr. the rights to the story of his life with his father in what is the first deal between a Gotti family member and a major movie producer.
The senior John Gotti was known as the "Teflon Don" for his ability to evade conviction before eventually being convicted of murder, racketeering and extortion. He died of cancer in 2002 while serving a life sentence.
Al Pacino and Kelly Preston have also signed deals to appear in the film.
LOS ANGELES (Reuters) -  (Editing by Bob Tourtellotte)