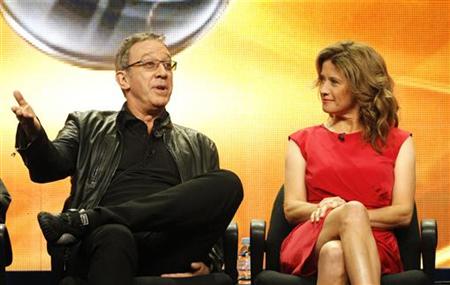 Tim Allen is headed back to television in his first network comedy in 12 years, feeling like the last real man in a woman's world.Or at least, that's what his character Mike is experiencing in "Last Man Standing" — a family man surrounded by three headstrong daughters and a wife who has gone back to work, turning him into the stay at home dad.
The series, making its debut on ABC in October, turns Allen's former alter ego, construction expert Tim Taylor in his hit 1990s comedy "Home Improvement" on its head. It is also one of a slew of upcoming TV comedies that feature emasculated or struggling men in a world where women appear to have the upper hand.
"What I really wanted was to flip flop 'Home Improvement' and investigate what it would be like to be around four women who are intelligent, strong fun and loving," said Allen, whose "Home Improvement" comedy ran from 1991-99.
"Instead of tools (in 'Home Improvement') it is sporting goods and gun and ATVs and boats, and I come home to 4 women," the actor and comedian told television reporters on Monday.
Allen plays a man working for an outdoor adventure firm, who lives in a world where younger, modern men — and women — are no longer able to do simple, once manly tasks like changing a car tire.
But it's a situation that also strikes a chord with Allen, who has two daughters of his own, and admits he still prizes women who like to cook and take care of their men.
"I really believe men need stuff to do…You have to have hobbies," the actor and comedian said.
"I like women who know how to cook, I like the process of letting a woman take care of you. It's either old school or misogynistic…The men in my life like being able to take care of a home, and when men lose this capacity we are kind of left with nothing to do," he said.
Creator Jack Burditt said that the struggling male theme would be just one aspect of "Last Man Standing".
"It is an interesting topic. I am fascinated that for the first time in history more than 50 percent of the workplace are women, and 60 percent of college graduates are women.
"But that's only one element of the show..At the heart of this is a family comedy about people who don't always see eye to eye on everything but who really like each other…There are a lot of themes we will be tackling," Burditt said.
"Last Man Standing" will join new TV shows "Man Up," about three guys trying to figure out what it means to be a man in this modern world, and "Work It", in which unemployed men dress up as women in order to get jobs.
LOS ANGELES (Reuters) – By Jill Serjeant(Editing by Bob Tourtellotte)
Corrects byline to Jill Serjeant.