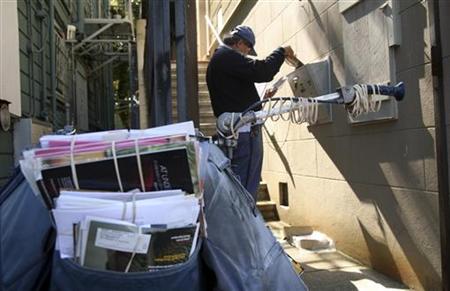 The U.S. Postal Service has its eye on a digital future, if it can get through its present financial straits.Postal officials and observers say the traditional business of delivering letters, postcards and other First Class mail will inevitably dwindle and may eventually disappear. The agency saw a $3.1 billion net loss in its most recent quarter and has drawn criticism from leaders in
Congress
and others that it has been slow to modernize.
The agency sees online services and digital advertising as keys to survival, but many of those ideas are in their infancy and would face competition from Google Inc and Apple Inc and others for both customers and developers.
"I think the real question is, how do we retain the Postal Service in this competitive communications environment?" said A. Lee Fritschler, a George Mason University professor who previously served on the Postal Regulatory Commission.
"The whole environment is changing so much that the old model simply doesn't fit very well."
TROUBLED FINANCES
Mail volume fell about 20 percent in the four years ending in 2010, when the Postal Service lost $8.5 billion. The agency now faces its own debt crisis: Despite delaying some payments to retirement programs, officials expect the Postal Service to hit its borrowing limit next month.
The agency, which gets no taxpayer funding, is both the pride and the punching bag of Congress, which has handed great control of Postal Service business decisions to its regulator.
It delivers about 40 percent of the world's mail, but attempts to cut service — the Postal Service says it could save $3 billion annually by slashing Saturday mail — or close post offices are deplored by lawmakers who do not want to lose jobs or the symbolic presence of a post in their districts.
Lawmakers have proposed a range of fixes but are on recess until September, when the agency expects to default on a $5.5 billion retiree health payment. As customers correspond by email and pay bills online, the gap is expected to widen.
SHIFTING TO DIGITAL
The Postal Service has tried in the past to go digital, but those efforts were often short-lived and met with skepticism.
A 2003 presidential commission on the Postal Service called its initiatives at the time — electronic bill presentment, certified electronic mail and greeting cards — "dubious forays" and told it to stick to traditional mail.
"Whenever there is a discussion or an effort by the Postal Service to get into so-called nonpostal activities, there has been some real tension," said Art Sackler of the Coalition for a 21st Century Postal Service.
Foreign postal agencies are far ahead, according to a Government Accountability Office report. Germany, Finland and others can scan physical letters and deliver them to email boxes or have electronic documents delivered by hand.
Such ideas could be viable but would be labor-intensive for a Postal Service with weighty personnel costs, experts said.
"If you go and check on some of these hybrid services and so forth … they ain't money-makers," Sackler said, adding that the agency also would need to compete for expertise in an already crowded e-services arena.
NEW USPS STRATEGY
Paul Vogel, chief of marketing and sales at USPS, is drafting a digital strategy for the Postal Service. He said he plans to begin gathering feedback this month.
"I'm not planning on doing a big-bang thing because I think that's just not appropriate," Vogel said, explaining that the agency is focusing on products it believes businesses want.
Officials hope direct mail — or junk mail — will help fill the gap left by the loss of letters and postcards. The agency's Direct Mail Hub offers an online tool to create advertising from templates. Every Door Direct Mail lets mailers go online to choose postal routes to send mail at a discount.
A promotion for smartphone barcodes, which lead to ads or sales, was created to keep advertisers from moving online.
"We have to think out what the market really wants, so it's going to take us a little bit of work," Vogel said. "I want to build a platform the American public needs, respects and wants."
WASHINGTON (Reuters) – By Emily Stephenson(Editing by Cynthia Osterman)