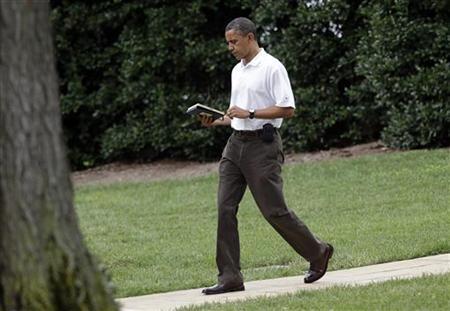 President
Barack Obama
heads out on Monday on a bus tour of
Minnesota
,
Iowa
and
Illinois
in the
U.S. Midwest
, aiming to leave behind doubts about his leadership that could dent his 2012 re-election prospects.The three-day trip takes him to three states vital to retaining the
White House
in the November 2012 election, but could expose Obama to voters who, polls suggest, are furious about political gridlock back in
Washington
. Obama won all three states in the 2008 presidential election.
The White House says Obama is on listening tour to hear from Americans about the economy and to talk about how to boost jobs and hiring. There are no plans announced for a major policy speech to roll out new initiatives for economic growth.
Obama is due to speak at a town hall style meeting in Cannon Falls, Minnesota on Monday before heading to Decorah, Iowa. He then holds a rural economic forum in Peosta, Iowa, on Tuesday and holds town hall meetings in Atkinson and Alpha, Illinois on Wednesday before returning to Washington.
The unmistakable campaign style of the trip will help the Democratic president test his organization and grassroots support as the field of Republican presidential candidates takes clearer shape.
Texas Governor Rick Perry entered the race for the Republican nomination on Saturday and is expected to join early front-runner Mitt Romney and Michele Bachmann in the top tier of candidates in the field.
Iowa, which launched Obama's historic journey to the White House in 2008, has recently been playing host to Republican presidential hopefuls who have been criticizing his record as they crisscross the state.
Bachmann on Saturday won the Iowa straw poll, an early test of strength among the Republican candidates.
Former Minnesota governor Tim Pawlenty became the first major casualty of the campaign when he dropped out of the race for the Republican nomination on Sunday after a disappointing showing the Iowa straw poll.
Obama's departure follows a spate of bad news that has dented confidence in his leadership, particularly after weeks of bitter debate to raise the U.S. debt limit that left exposed deep partisanship verging on government dysfunction.
A leading ratings agency downgraded the nation's AAA credit rating and fears of another U.S. recession have grown, adding to investor concerns about Europe's ongoing debt crisis. Stock markets whipsawed over the past week, producing one of the most volatile periods of Obama's presidency.
WASHINGTON (Reuters) – By Alister Bull(Editing by Will Dunham)