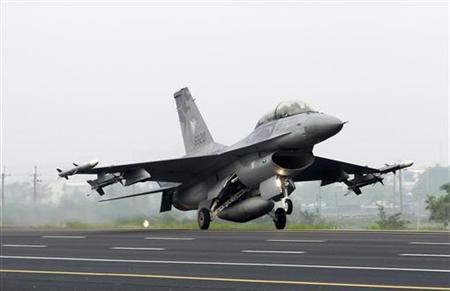 The
United States
has refused
Taiwan
's request for 66 new
F-16C
/D fighter jets that
China
warned
Washington
would risk inflaming tensions between the two big powers, Defense News reported, citing a
Taiwan
defense official.
Taiwan
has repeatedly asked
Washington
to agree to sell the advanced
F-16
fighter jets, citing the need to counter the growing military strength of
China
, which deems the island an breakaway province that must eventually accept reunification, by force if necessary.
Neither Washington nor Taipei has made any formal announcement about the latest call for the fighters, but Defense News (http://www.defensenews.com) said on Sunday that Taiwan had been told there would be no sale, citing Taiwan's Ministry of National Defense.
"We are so disappointed in the United States," the report quoted an unnamed Taiwan defense official as saying.
"A U.S. Department of Defense (DoD) delegation arrived here last week to deliver the news and offer instead a retrofit package for (Taiwan's) older F-16A/Bs," the journal reported from Taipei.
Any fresh U.S. arms support to Taiwan is likely to raise hackles in Beijing, but the advanced fighter jets have been an especially touchy point for China, which this week will host U.S. Vice President Joe Biden.
The bitter debate in the U.S. Congress over spending and the downgrade of the U.S. sovereign credit rating by Standard & Poor's drew blunt criticism from China's state media, including a commentary that said the U.S. debt woes reflected its military overreach abroad.
Taiwan's Defense Ministry said it could not comment on the report, as it had not heard from the United States.
"However, we want to point out that the Republic of China (Taiwan) does hope the sale of new F-16C/D fighter aircraft will go through. We are in urgent need of the aircraft," Spokesman Luo shou-he told Reuters.
The United States switched diplomatic recognition from Taiwan to China in 1979 and recognizes Beijing's "one China" policy. But it is also Taiwan's biggest ally and arms supplier and is duty-bound by legislation to help the island in the event of attack.
Washington had been set to make a decision by October on Taiwan's oft-repeated request for the fighter jets, balancing its legal obligations to Taiwan under the Taiwan Relations Act against the need to avoid upsets with a major creditor and trading partner, China.
"Frankly, it is not a real surprise. The real surprise is that they sold them the F-16s in the first place," said Richard Bitzinger, a senior fellow and regional defense expert at Singapore's S. Rajaratnam School of International Studies.
But Bitzinger said it was not a total victory for Beijing because a potential upgrade to existing fighters would go a long way in covering Taiwan's loss of a new batch of F-16s.
"The types of upgrades they are talking about would make them the most advanced F-16s in the world. This is a significant upgrade, and I am sure a lot of that work will go to Taiwanese companies. In that regard, it may be a better deal," he said.
The Obama administration's decision to move forward with a set of arms sales to Taiwan last year triggered an angry response from Beijing, which curtailed many military contacts and threatened to sanction companies involved in the sales.
Since then, Beijing and Washington have patched up ties, but the potential sale of more U.S. weapons to Taiwan remains a sensitive issue.
In May, a visiting Chinese military commander warned against any future U.S. arms sales to Taiwan. And recently, a popular tabloid linked to China's Communist Party's mouthpiece argued that China should use its "financial weapon to slap Washington" over any arms sales to Taiwan.
TAIPEI (Reuters) – By Faith Hung(Additional reporting by Chris Buckley and Michael Martina in Beijing; Editing by Nick Macfie)