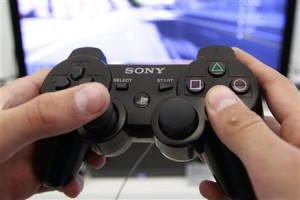 Sony
Corp has cut the price of its basic
PlayStation 3
gaming console by nearly a fifth in the
United States
, a move that could lift the industry by boosting video game sales ahead of the holiday season.
Sony
is also hoping to regain lost ground from its main rival,
Microsoft
Corp, which makes the Xbox. It announced the cuts a week after sales for new games suffered their lowest month in nearly five years, according to retail research firm
NPD
.
The price cut may help publishers such as Electronic Arts Inc, retailers and makers of video game accessories such as plastic guns.
"It is safe to assume that confidence across the entire industry just lifted," said Jesse Divnich, an analyst at EEDAR, a video game retail research firm.
GameStop Corp, the largest retailer of video games products, saw it shares rise more than 2 percent on Tuesday.
Sony, which has been recovering from a massive hacking attack that turned up serious security flaws on its PlayStation network, said at a flashy news conference it was lowering prices on the eve of Gamescom, Europe's largest video games show.
"Historically, we've seen sales increases from our price drops and we expect to see the same here." said Jack Tretton, chief executive of Sony's U.S. PlayStation unit in an interview.
The price tag on the 160 GB version of PlayStation 3 is now $249, down from $299. In Europe and Japan, the console's price also has been slashed to 249 euros and 24,980 yen from 299 euros and 29,980 yen, respectively.
And the larger-storage 320 GB version of the PlayStation console — which also competes with Nintendo Co Ltd's Wii — now sells for $299 in the United States versus $349 originally.
Outside the U.S., the 320 GB version now costs 299 euros and 29,980 yen in their respective markets, from 349 euros and 34,980 yen previously.
Sony said the new pricing would take immediate effect in Europe and start on August 18 in Japan.
The Japanese company, which once dominated consumer electronics globally, also plans to release this year a new, slimmed-down and cheaper version of its PlayStation Portable (PSP) handheld device in Europe only. The new device will cost 99 euros and will not have Wi-Fi access.
Sony's biggest current bet is the Vita, a light-weight handheld device with flashy graphics. Game blogs have lit up with criticism over its launch date and price. It will face a tough fight from Nintendo, which lowered the price of its handheld 3DS more than 30 percent only four months after it hit stores in the United States.
Yet Tretton said the data he has seen on buyer intentions for the Vita, as well as the reaction from developers and retailers, has been "universally positive."
Sony dismissed notions that consumers are unwilling to cough up dollars for a handheld games device when they may already play games on their phones.
"If you look at the gaming and social gaming experience on Vita, you will never confuse it with a gaming experience on the mobile phone. They are a far cry from each other," Tretton added.
Sony shares listed in the United States fell 1.8 percent to close at $21.96 on Tuesday.

COLOGNE, Germany/NEW YORK (Reuters) – By Michelle Martin and Liana B. Baker(Reporting by Liana B. Baker in New York and Michelle Martin in Cologne, Germany; editing by Carol Bishopric and Andre Grenon)