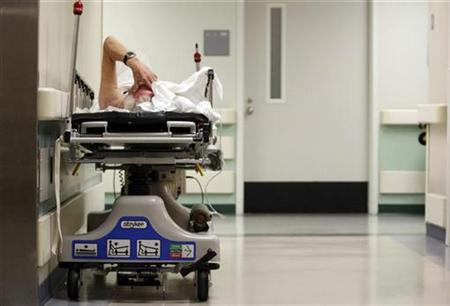 Large employers expect big increases in healthcare costs in 2012, and say they'll pass more and more of those costs on to their workers. That's the result of a new survey by the
National Business Group
on Health, a trade group for these large companies."It's a huge burden on businesses and employers," says
Helen Darling
, the group's president. "Healthcare costs continue to gallop along at over seven percent." Members say they expect their 2012 costs to be 7.2 percent above their 2011 costs, which are trending 7.4 percent above 2010 costs. (Separately,
Standard & Poor's
reported more modest increases in actual healthcare costs. The average per capita cost of healthcare services covered by commercial insurance and
Medicare
programs increased by 5.61 percent over the 12 months ending in June 2011. Click here to see the study: http://link.reuters.com/mup33s)
That means bigger expenses for workers, who will be asked to pick up more of those costs. More than half of the companies say they'll increase the percentage that employees contribute to premiums, while 39 percent say they'll increase deductibles for workers who stay in-network for their healthcare.
Other employee burdens that can be expected to rise are out-of-network deductibles and out-of-pocket maximums. Companies are also moving away from fixed-rate co-pays, moving instead to cost-sharing models that require employees to pay a percentage share of all rising costs, says Darling.
"Employers are being much more aggressive in their use of cost-sharing techniques and cost-control programs," she says, adding that in 2012, companies can be expected to pay almost $12,000 per employee for healthcare costs.
Ouch. That's definitely adding insult to injury or illness. What can employees to do to keep their own healthcare costs from eating the family budget? Here are some tips to consider, as open enrollment season looms in the not-too-distant future.
COORDINATE BENEFITS
Look at all of the coverage available to all of the family members. It may make sense for each spouse to stay with his or her own employer's plan, and for the kids to go with the spouse whose employer makes family coverage most affordable. And now that young adults can stay on their parents' plans until they turn 27, they should weigh all of their alternatives too. Even an employed 20-something may find it cheaper to stick with the mom-and-pop plan, and even married, young adults can stay insured through their parents.
SHOP PRIVATELY
Not every employer offers a great plan, and some of them may actually cost more than others you can find on the open market. Check quotes at eHealthinsurance.com (http://www.healthinsurance.com/) to see what's available for you from private insurance. Then when you get your 2012 package from your employer, you'll be able to see if it's worth enrolling.
TAKE ADVANTAGE OF ALL THE TAX BREAKS
Companies are increasingly turning to high-deductible plans linked to health savings accounts, health reimbursement accounts and flexible spending accounts. All three offer tax savings for the money that goes into those accounts. But only the health savings account allows you to accumulate money for the future, save it for years and take it with you when you move to another job. If you've got a large amount left in your use-it-or-lose-it FSA account for 2011, start thinking about end-of-year dental, vision and other elective appointments.
USE THE BENNIES
Companies are convinced that money spent on health improvement – for weight loss and smoking cessation programs and the like – are worthwhile. They eventually help to contain healthcare costs. So pay careful attention to the extras that come with your plans like discounts on gym memberships, yoga classes, massages and more. That's worthwhile and you may need all the stress relief you can get when you look at your premiums for next year.
NEW YORK (Reuters) – By Linda Stern(Editing by Beth Gladstone)