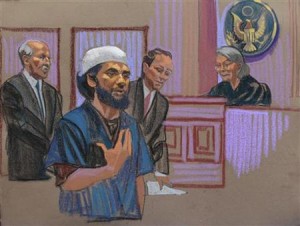 A Pakistani immigrant pleaded guilty on Thursday in federal court to running an illegal money-transfer business that provided $7,000 to the man who tried to bomb New York's Times Square.
Mohammad Younis, 45, was charged in September, five months after Faisal Shahzad was arrested for parking a crude car bomb in the crowded Times Square on May 1, 2010. A bomb squad ultimately defused the device.
Federal prosecutors in Manhattan said in the indictment that Younis met with Shahzad on April 10 last year and gave him the money sent by people in Pakistan as part of an informal "hawala" money transaction common in Islamic societies.
On Thursday, Younis pleaded guilty in Manhattan federal court to one count of conducting an unlicensed money transfer business. But Shahzad's name was not mentioned in court.
Younis told U.S. District Judge John Keenan that he did not know who he gave the money to or what the money was intended for. Prosecutors have not charged Younis with participating in or having any knowledge of Shahzad's planned attack.
"Specifically, I transferred $5,000 to one individual and $7,000 to the other individual," Younis said in court.
Federal prosecutors have not said who the recipient of the $5,000 payment was.
Younis, a Pakistani citizen, is slated to be sentenced on November 30 and will likely face deportation after sentence. His recommended sentence spelled out in a plea agreement with prosecutors is for up to six months in prison.
Shahzad was sentenced to life in prison in October over the failed bombing.
NEW YORK (Reuters) – (Reporting by Basil Katz; editing by Cynthia Johnston)