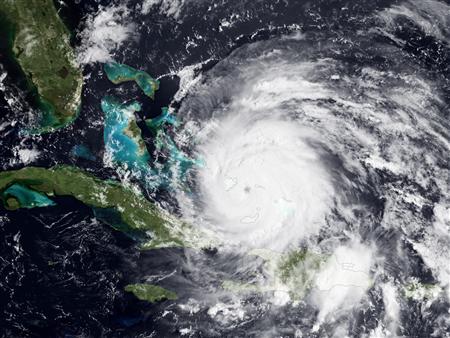 Hurricane
Irene
washed away homes in
the Bahamas
on Thursday as its battering winds and rain headed toward the U.S. eastern seaboard including densely populated
New York
and
New England
.U.S. emergency officials have urged residents from the
Carolinas
north to
New England
to watch for
Irene
, now a major Category 3 storm, which is forecast to rake up the coast starting Saturday.
The northern part of the North Carolina coast went on a hurricane watch in anticipation of Irene's forecast landfall on Saturday evening in the state's eastern Outer Banks barrier islands, which are popular with vacationers in the summer.
The U.S. Navy said ships of the Second Fleet based in Hampton Roads, Virginia, were under orders to put out to sea as a precaution to ride out the upcoming storm. Officers said large ships can better weather big storms at sea than in port.
North Carolina authorities have already started evacuations from exposed barrier islands, while along the East Coast residents rushed to stock up on food and water supplies, boarded up windows and secured roofs, vehicles and boats.
Irene, which has already caused the deaths this week of at least one person in Puerto Rico and two in the Dominican Republic, with others reported missing, was lashing the Bahamas capital Nassau with heavy rains and gusting winds on Thursday.
On Wednesday, it tore through sparsely populated low-lying southeastern islands in the Atlantic archipelago.
The Bahamas newspaper The Tribune reported on its website that on Acklins Island "homes have been completely washed away or have lost entire roofs, power lines have been downed and trees are blocking roads."
Many residents sought safety in shelters. No report on casualties was immediately available.
At 8 a.m. (noon GMT), Irene was packing winds of 115 miles per hour (185 km per hour) and was located about 65 miles east northeast of Nassau.
Many tourists in the Bahamas had already fled the storm and major cruise lines canceled stops there.
The first hurricane of the storm-filled 2011 Atlantic season was expected to gain strength after it leaves the Bahamas on Thursday and race across open waters to clip North Carolina's jutting Outer Banks region on Saturday.
After that, forecasters see it hugging the U.S. eastern seaboard, swirling rains and winds across several hundred miles (km) as it churns northward toward New England.
The Miami-based NHC said it would move over the northwestern Bahamas on Thursday and pass well offshore of the east coast of central and north Florida later on Thursday and early on Friday.
U.S. National Hurricane Center Director Bill Read warned on Wednesday that Irene could become a "big threat for New England and perhaps Long Island" from Sunday onward
.
Read said North Carolina could get tropical storm-force winds as early as Saturday morning.
If Irene makes a direct landfall in the continental United States, it will be the first hurricane to hit there since Ike pounded Texas in 2008. But forecasts showed it posing no threat to U.S. oil and gas installations in the Gulf of Mexico.
New York Governor Andrew Cuomo ordered the state's Office of Emergency Management to prepare for possible impact from Irene. Insurers kept a nervous watch in case Irene threatened wealthy enclaves such as the Hamptons, an eastern Long Island playground for New York's rich.
Forecasters warned that even if the center of the hurricane stays offshore as it tracks up the mid-Atlantic coast, its wide, swirling bands could lash cities including Washington and New York with winds and rain, knock out power, trigger coastal storm surges and cause flooding.
NASSAU (Reuters) – By Neil Hartnell(Additional reporting by Tom Brown, Jane Sutton and Manuel Rueda in Miami, Matthew Ward in Chesapeake, Virginia; Joan Gralla in New York; Ned Barnett in Raleigh, N.C.; Writing by Pascal Fletcher; Editing by Jackie Frank)