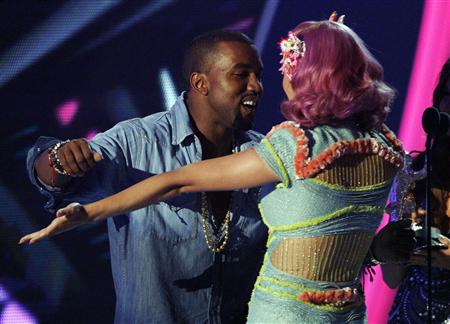 Pop star
Lady Gaga
opened the
MTV
Video Music Awards on Sunday dressed in drag and singing her "You and I" while
Britney Spears
and
Katy Perry
took awards, but it may be Beyonce who stole the show.The R&B singer whose hits include "Single Ladies (Put a Ring on It)" appeared visibly pregnant as she showed up on the red carpet outside the show, posing for photographers and outlining a baby bump with her hands under her long gown.
Beyonce, who is married to rapper Jay-Z, avoided reporters waiting to ask whether she is pregnant. For years, her fans and the media have speculated whether and when the pair might have a baby.
Lady Gaga, who showed up last year at the MTV video awards in a dress made of raw meat, did an about face this year, opening the program in a man's dark suit and T-shirt as her male alter ego, Joe Calderon who gave the audience a lecture in just who Gaga is — high heels, wild hair and crazy costumes.
"When she gets on stage, she holds nothing back," Calderon said.
Lady Gaga then launched into a version of "You and I," backed by a group of dancers and legendary rock guitarist Brian May of Queen. She danced on her piano and spewed beer from a bottle into the air in celebration.
The MTV Video Music Awards (VMAs) annually give out honors for the top music videos and performances to singers and bands, and each year, audiences can count on at least one surprise.
Beyonce's picture-perfect baby news will likely be this year's unexpected event.
EARLY WINNERS
But awards are the focus of the night and the first winner was Spears for best pop music video "Till the World Ends."
The pop star took the stage and seemed surprised, saying she hadn't expected to win and thanking her family and fans.
Along with Spears, Foo Fighters picked up an early honor for best rock video with "Walk," and Nicki Minaj picked up the "Moonman" winner's statuette for her "Super Bass." Katy Perry and Kanye West were named best collaboration with "E.T."
Another major award still to come is best new artist, and Tyler, The Creator figures prominently in that race, too, alongside Wiz Khalifa with "Black and Yellow," Kreayshawn for "Gucci Gucci," Foster the People with "Pumped Up Kicks," and Big Sean (featuring Chris Brown) for "My Last."
British singer Adele with her chart-topping song "Rolling in the Deep" is vying for the top award, video of the year, against Katy Perry ("Firework"), Bruno Mars ("Grenade"), the Beastie Boys ("Make Some Noise") and Tyler, The Creator ("Yonkers").
Early performances included a duet by Jay-Z and Kanye West, singing a song from their new album, "Watch the Throne."
Other singers still to come include Lil Wayne, and there will be special tributes to Britney Spears and late soul singer Amy Winehouse.
LOS ANGELES (Reuters) – By Bob Tourtellotte(Additional reporting by Piya Sinha-Roy; Editing by Paul Simao)