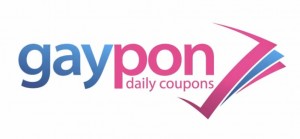 Gaypon, an online source for coupons and discounts provided by gay-friendly businesses, today announced the official launch of its website DailyGaypon.com.  The site provides its subscribers with daily offers from local, regional and national businesses that welcome and support consumers from the lesbian, gay, bisexual, transgender (LGBT) and allied communities.
"Gaypon gives you the opportunity to receive awesome discounts on everything from dining, nightlife and entertainment to the latest gadgets, fashion and fitness," said Gaypon Founder & CEO, Robert Graham.  "You don't have to be part of the LGBT community to participate with Gaypon.  Our online community is a place where individuals who believe in equal and fair employment practices can find great deals and support businesses that share the same philosophy."
The Benefits of Being A Gaypon Subscriber
There is no cost to become a subscriber and registration can be completed at DailyGaypon.com.  Gaypon subscribers, once registered, will receive coupons and discounts via email with a limited timeframe for purchase.  After a deal is purchased, a coupon or unique coupon-code will arrive via email.  The subscriber can then present the coupon to a business for redemption or enter the coupon-code at the merchant's website.
Giving Back to the Community
Gaypon gives back to local and national LGBT organizations and charities with a portion of proceeds being donated.  "Through our support of nonprofits, Gaypon gives our subscribers more than one reason to feel good about their purchase," said Graham.
How Businesses Can Be Featured on Gaypon
"A business does not have to be gay-owned to be featured on Gaypon, just proud to support a diverse workforce and customer base," said Graham.  Before a business can become participating merchant, Gaypon performs a background check for complaints of discrimination and/or poor hiring practices.  Gaypon also uses additional tools to evaluate potential businesses for corporate policies and practices such as the Human Rights Campaign's "Corporate Equality Index," which rates Americans businesses on LGBT equality.
For more information about Gaypon, visit http://www.dailygaypon.com/about.php
DETROIT, Aug. 30, 2011 /PRNewswire/ –  SOURCE Gaypon, LLC
CONTACT: Jason Buszta, Communications Director, +1-248-491-3091, Jason@DailyGaypon.com
Web Site: http://www.DailyGaypon.com