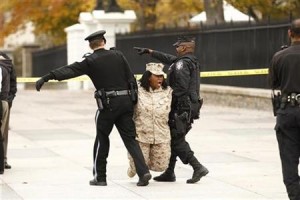 Obama administration
lawyers will ask a federal appeals court on Thursday to vacate a judgment declaring "Don't Ask, Don't Tell" unconstitutional now that the ban on openly gay men and women in the military is about to be repealed.But attorneys for opponents of the ban argue that the court decision striking it down should be left intact, preserving a legal precedent for anyone discharged under the policy who is seeking reinstatement, back pay or other recompense.
President Barack Obama in December signed a repeal of the 17-year ban into law, and he announced last month that the repeal would take effect September 20 following months of preparation by the Pentagon to implement the policy change.
The administration has argued that the legal case against "Don't Ask, Don't Tell" is therefore moot and that the landmark judgment won last year by a gay rights group, the Log Cabin Republicans, should be vacated.
More than 13,000 gay men and lesbians have been expelled from the armed services for revealing their sexual orientation since the policy went into force in 1993 under then-President Bill Clinton.
Their circumstances vary, and no one knows how many might seek to reenlist or change their discharge status, said attorney Dan Woods, representing the Log Cabin Republicans.
"If some of them were discharged with less than honorable discharges, then they've suffered a lot of other consequences," Woods told Reuters. "They haven't been able to take advantage of the G.I. Bill or (veterans) benefits, or things like that."
"Others might want to argue in court … that they were discharged under an unconstitutional statute and should be reinstated to the positions they held when they were discharged," he said.
At least one such case on behalf of three former service members has been filed in northern California, Woods said.
Three months before Congress passed the repeal law, a federal judge in California handed gay activists a major victory last year by ruling that "Don't Ask, Don't Tell" infringed on the constitutional free-speech and due-process rights of homosexuals in the armed forces.
U.S. District Judge Virginia Phillips put her decision into effect in October by ordering a halt to further enforcement of the ban, briefly requiring the military to welcome openly gay recruits for the first time.
But the 9th U.S. Circuit Court of Appeals reversed her injunction in November, ruling that "Don't Ask" should remain in place pending a final outcome of the case.
The 9th Circuit reinstated the injunction in early July, then partially reversed itself again 10 days later. As it currently stands, the ban on openly gay men and lesbians in uniform remains in effect, but the Pentagon is effectively barred from enforcing it.
It is now up to the appeals court to decide whether to affirm or overturn Phillips' underlying decision declaring the gay ban unconstitutional. The court could otherwise throw the case out on grounds the Log Cabin Republicans lack standing or vacate Phillips' judgment as requested by the administration.
Woods said that would leave future gay enlistees vulnerable to a future reinstatement of the policy.
"And virtually every Republican candidate for president has promised to do that if elected," he said.

PASADENA, Calif (Reuters) – By Mary Slosson(Writing by Steve Gorman; Editing by Dan Whitcomb and Greg McCune)