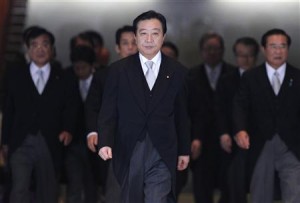 Japan
's new Prime Minister
Yoshihiko Noda
unveiled on Friday a government that will face the task of engineering an economic recovery without blowing a hole in its stretched finances, promising swift fiscal reforms but with an eye on growth.Noda, 54, the latest of
Japan
's revolving-door leaders, also said he would seek to balance energy needs with public concerns about safety after a March earthquake and tsunami triggered the world's worst nuclear crisis in 25 years.
Noda's cabinet appointments from various groups in his own party revealed a similar desire to find the middle ground, raising doubts whether the new government caught between conflicting demands can achieve more than its short-lived predecessors.
Noda's government, Japan's sixth in five years, must find funds to rebuild from the March disasters while trying to tame a surging yen, which has gained 5 percent against the dollar in the past two months.
"We can lose no time in reforming public finances. But I'm not putting fiscal reform on top of everything else," Noda told a news conference after being formally appointed. "Achieving a good balance between fiscal reform and economic growth is our top priority."
In a sign he plans to call the economic policy shots himself, Noda picked a relative lightweight lawmaker for the finance minister post.
In fact, in their first news briefings both Noda, who served as finance minister under Prime Minister Naoto Kan, and his successor in the job, 49-year-old Jun Azumi, struck strikingly similar notes on the currency and fiscal policy.
"The economy is recovering from the effects of the earthquake, but close attention should be paid to downside risks to the economy such as from slowdown in the West and the yen's rise," Azumi said, echoing Noda's remarks.
YOUNG, FOR JAPAN
Noda tapped the former TV presenter and parliamentary affairs chief for the finance portfolio after his first choice turned it down. He also picked several other lawmakers in their 40s, young by Japanese political standards, for the new cabinet.
Noda, an unassuming conservative who has compared himself to the "dojo" loach, a bottom-feeding fish, faces a long list of challenges as the third premier since his Democratic Party of Japan took power in 2009.
Among them: dragging the world's third-largest economy out of stagnation, forging a new energy policy while ending a radiation crisis at the crippled Fukushima nuclear plant, rebuilding the tsunami-devastated northeast and finding funds to pay for that and the vast costs of social welfare in an aging society.
Japan's public debt is already double the size of the country's $5 trillion economy, the worst among advanced nations. Moody's rating agency cut the nation's credit rating last week, citing revolving-door leadership as an obstacle to effective economic policies.
Noda also faces a split parliament and rifts within his own party.
His new finance chief's first task will be to oversee drafting of a third extra budget to fund reconstruction from the March disasters, the biggest rebuilding project since the aftermath of World War Two.
ENERGY MIDDLE ROAD
As in his cabinet appointments and economic priorities, Noda also sought to tread the middle ground on energy policy.
He said he understood the public's safety concerns and admitted it would be hard to build new reactors as planned under a 2010 national energy policy but said he wanted to restart off-line reactors once safety checks were cleared.
Noda and his new foreign minister, Koichiro Gemba, must work to tighten ties with close security ally the United States, frayed when the Democrats swept to power two years ago, and keep
oft-tense relations with rising rival China on an even keel.
Stressing that the alliance with Washington was the core of Tokyo's diplomacy, Noda added: "I'll do my utmost to build up friendly ties with not only China but with other neighbors such as South Korea and Russia."
There were no standout appointments in Noda's cabinet, which — like his earlier picks for party posts — included a mix of lawmakers from various feuding factions. That led some to wonder whether Noda was not putting too much stress on party unity over expertise. "I don't think this line-up is one that can pull up its socks and respond to the public's hopes," said Katsuhiko Nakamura, executive director at think tank Asian Forum Japan.

TOKYO (Reuters) – By Leika Kihara and Rie Ishiguro(Additional reporting by Shinichi Saoshiro, Yoko Kubota and Kiyoshi Takenaka; Writing by Linda Sieg and Tomasz Janowski; Editing by Alex Richardson)