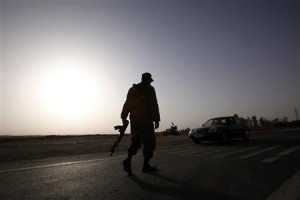 Libyan forces made ready to storm a desert town held by loyalists of Muammar
Gaddafi Monday
but held off in the hope of a surrender that would avoid bloodshed.On-off negotiations involving tribal elders from
Bani Walid
, south of
Tripoli
, and a fog of contradictory messages in recent days, reflect the complexities of dismantling the remnants of Gaddafi's 42-year rule and building a new political system.
At a military checkpoint some 60 km (40 miles) north of the town on the road to the capital, the latest word to journalists from Abdallah Kanshil, who is running talks for the interim government, was that a peaceful handover was coming soon.
"The surrender of the city is imminent," he said. "It is a matter of avoiding civilian casualties. Some snipers have surrendered their weapons … Our forces are ready."
Similar statements for several few days have not been followed by an end to the siege, however. And, with communications cut, there is no word from inside the town.
Last week, a senior military commander for the National Transitional Council (NTC) said he believed Gaddafi himself was in Bani Walid, 150 km south of Tripoli, along with his son Saif al-Islam, his former heir apparent. However, Kanshil said he thought the only member of Gaddafi's entourage still in the town was his spokesman, Moussa Ibrahim. In a comment to Reuters on Saturday, Ibrahim implied he might have been in Bani Walid.
Another son of Gaddafi, Saadi, was quoted by CNN as telling the channel that he was "a little bit outside" Bani Walid, had not seen his father for two months and was trying to help bring peace despite "aggressive" talk from his brother Saif.
TRIBAL NEGOTIATORS
NTC military units are trying to squeeze pro-Gaddafi forces out of Bani Walid, as well as Gaddafi's home town of Sirte on the coast and a swathe of territory deep into the desert.
Earlier, outside Bani Walid, an NTC commander, Mohammed al-Fassi, said force now seemed the only option. "The offer is that people who committed crimes in Gaddafi's name will be put under house arrest until the new government is formed. Some of them have accepted this but others said no," he said.
Tribal politics, a feature of Libyan life that Gaddafi exploited to divide and rule, will still play a part as the NTC tries to disarm the varied groups that fought the six-month war to dislodge him, install a democracy that can survive ethnic and other divisions, and revive Libya's oil-based economy.
At Bani Walid, the Warfalla tribe, a diffuse group that includes as many as a million people, or a sixth of the population, has a key role in that its leadership centered on the town have retained loyalties to Gaddafi, while others, in cities like Misrata and Tripoli, joined the revolt.
These tribesmen are now negotiating with their kin across the political divide. "They are now talking cousin to cousin," said one Warfalla man, who spoke to Reuters privately near Bani Walid. "But as you can see it is still not going well."
Even as tribal elders in flowing white robes squatted in the shade Sunday for talks with NTC fighters in T-shirts and jeans, some homes in the nearby town of Tarhouna were still flying the all-green Libyan flag imposed by Gaddafi, while others had raised the red, green and black of the new council.
A dozen or so vehicles carrying more NTC fighters arrived at the checkpoint Monday. Ismail Ibrahim al-Gitani, a 33-year-old in a black "Free Libya" T-shirt and beret, who said he used to be a businessman, said his unit had been ordered forward.
"Hopefully not a single will be fired, but if Gaddafi forces fire at us first we will respond," he said.
LAW AND ORDER
In Tripoli, NTC officials have been trying to establish a new order, two weeks after Western-backed rebels overran the city. Water is still short, but other supplies are improving.
Ahmad Darat, the interim interior minister, said about half the police force had returned to work in the capital. The NTC announced a plan Sunday to offer work in the police and elsewhere to disbanded rebel fighters — a move of a kind recommended by the United Nations which has raised the alarm about the large numbers of disorganized armed men in Libya.
"As the days go by, they are coming back to work," Darat said of the police who were working under Gaddafi.
The NTC is keen not to demonize those who served the old regime — to avoid what it sees as an error that contributed to Iraq's descent into bloody anarchy after Saddam Hussein's fall.
"The vast majority of the policemen are serving the people and as the days go by we expect them to come back," Darat said.
Asked about complaints about the conditions of those whom the new authorities were holding for questioning, Darat acknowledged there were problems in prisons but said they would improve as resources became available.
Ian Martin, a United Nations adviser in Tripoli, said after a meeting at the interior ministry that the NTC should ensure that rights were respected. "One of the most important challenges is the restoration of public security in the hands of a system which will respect human rights rather than the previous system which violated human rights," he said.
The NTC is trying to assert its authority, but in a sign of dissent, Ismail al-Salabi, an Islamist military commander who fought Gaddafi, has urged interim cabinet members to resign because they were "remnants of the old regime."
The new authorities' relations with the world outside are also still being worked out. China, which has been concerned it might lose out commercially to Western powers in the new Libya, said Monday it had not been aware of offers of arms to Gaddafi apparently made by Chinese companies in recent months.
Documents found in Tripoli and published by a Canadian newspaper indicated officials from Gaddafi's administration had sought to circumvent a U.N. arms embargo and believed they had assurances from Chinese firms that they could supply weapons.

NORTH OF BANI WALID, Libya (Reuters) – By Maria Golovnina(Reporting by Mohammed Abbas, Christian Lowe and Alex Dziadosz in Tripoli, Sherine El Madany in Umm Qundil, Emma Farge in Benghazi, Marie-Louise Gumuchian, Barry Malone and Alastair Macdonald in Tunis, and Amena Bakr and Omar Fahmy in Cairo; Writing by Marie-Louise Gumuchian and Alastair Macdonald; Editing Alistair Lyon)