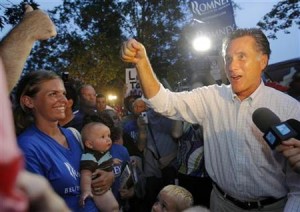 Presidential contender
Mitt Romney
tried to win over doubters from the conservative
Tea Party
movement on Sunday, telling them he was the Republican candidate who can beat back the "heavy hand of government" and create jobs.Brushing off a small protest from activists who consider him too liberal, Romney addressed a
Tea Party
rally in the
New Hampshire
town of Concord.
The most moderate of the top three Republican candidates, Romney is distrusted by some conservatives in the party. They particularly dislike a healthcare reform he enacted while governor of Massachusetts that some consider a model for President Barack Obama's 2010 national healthcare overhaul.
Romney, a multimillionaire former businessman, said his experience in the private sector makes him uniquely qualified to tackle stubbornly high unemployment. "We need someone who has worked in the private sector,: he said. "I'm a business guy."
Taking up a favorite Tea Party theme, Romney accused big government of "crushing the rights of individuals."
Speaking to a Republican group that often opposes him was a high risk strategy but Romney came through largely unscathed. He was received reasonably warmly for the most part by the audience of around 200 people, although some 20 Tea Party backers held a protest before he spoke to accuse him of only paying lip service to Tea Party principals of small government, low taxes and personal responsibility.
A person in the crowd wore a dolphin suit, and waved a pair of yellow flip-flops in reference to criticism of Romney as a flip flopper on policies.
"We do not need leadership that puts up a finger in the wind to see which way the wind is blowing and then changes direction," said Tim Carter, a protest leader.
In recent weeks, Governor Rick Perry of Texas, favored by many Tea Party supporters, has overtaken Romney in the race to become the Republican who will take on Obama in 2012.
In an apparent attack on three-times governor Perry, Romney said:
"Career politicians got us into this mess and career politicians can't get us out of it."
A recent Gallup poll showed 29 percent of Republicans would likely vote for Perry, while 17 percent would support Romney.
Romney is due to present a major policy plan on jobs this week, ahead of Obama's speech to Congress on how to alleviate unemployment of 9 percent.
"We did an unusual thing about 3 years ago as a people, we elected a person who had never worked in the private sector, who never had a job in the private sector and never really been a leader anywhere, and didn't have a track record, and people asked, what would happen if we elected as president someone with no experience. Now we know, and its not a very pretty picture, is it?" Romney said.
In the audience, James McCloskey, 38, who works in finance, said he was glad Romney had reached out to "serious conservatives," But he added: "A speech is one thing, a record is another," and said he would vote for Ron Paul.
Romney was invited to Concord by the Tea Party Express, but another wing of the Tea Party movement, the libertarian group FreedomWorks objected to his presence there.
His visit opened up a division in the movement, which is a fierce critic of Obama's efforts to reduce the budget deficit. The Tea Party helped the Republican Party take control of the House of Representatives at congressional elections last year.
"This is more than just a local spat, it represents something larger," said Professor Jeffrey Berry, a professor of American politics at Tufts University who is writing a book about the Tea Party. "I think the conflict between FreedomWorks and local and state parties is going to continue and that organizational rivalries are going to continue."
CONCORD, New Hampshire (Reuters) – By Toni Clarke(Editing by Alistair Bell and Cynthia Osterman)