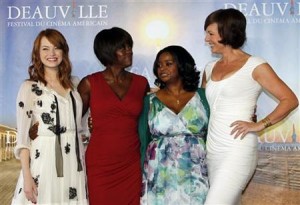 Surprise summer hit "The Help" retained the No. 1 spot at movie theater box offices on Sunday, beating back three newcomers and appearing headed for victory over a long U.S. holiday weekend.
Movie studio estimates showed the civil rights-era story about the racial divide between white women in Mississippi and the black women who worked for them had taken in $14.2 million over three days ending on Sunday and appeared headed toward $18 million by Monday, the U.S. Labor Day holiday.
The movie, backed by DreamWorks and released by the film division of The Walt Disney Co, topped No. 2 film, spy thriller "The Debt," which collected $9.7 million through Sunday and was poised for an $11.6 million haul by Monday, according to industry watcher Hollywood.com Box Office.
"The Debt," a newcomer to theaters from Focus Features, raked in an average of $5,300 per theater from 1,800 venues through Sunday. It is expected have sold $14 million worth of tickets in domestic — U.S. and Canadian — theaters by the time the holiday ends on Monday.
Taking the No. 3 spot was another new movie, space alien mystery "Apollo 18," which purports to use "found footage" of an ill-fated trip to the moon to tell its otherworldly tale. It had taken in $8.7 million, or $2,600 per venue, for the three days ending on Sunday. A Monday forecast was not available for the movie released by privately held Weinstein Co.
Close behind was the weekend's third new release, another thriller, "Shark Night (3-D)." It was seen collecting $8.6 million through Sunday and adding $1.9 million on Monday, to end at $10.5 million, according to its studio, closely held Relativity Media. For the three days ending on Sunday, its average was estimated at $3,000 per venue.
Rounding out the top five was holdover sci-fi flick "Rise of the Planet of the Apes," from 20th Century Fox, with $7.8 million in its fifth week in theaters. Like "the Help," its strong performance — $160 million overall and still climbing — has surprised box office watchers.
"The Help," in its fourth week, is expected to see its total domestic ticket sales reach $122 million by the time the long holiday weekend ends in the United States on Monday.
Focus Features is the specialty movie division of Universal Pictures, which is controlled by Comcast Corp.
LOS ANGELES (Reuters) – (Reporting by Bob Tourtellotte; editing by Mohammad Zargham)