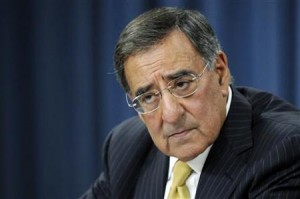 Defense Secretary Leon Panetta denied on Tuesday any decision was made on keeping some U.S. troops in Iraq beyond an end-year deadline for their withdrawal as speculation mounted that the Obama administration backed keeping a small training force in the country.
The New York Times reported that Panetta supported a plan to keep 3,000 to 4,000 U.S. troops in Iraq past the year-end drawdown deadline agreed in a bilateral security pact. Fox News issued a similar report earlier in the day.
The Panetta-backed plan was significantly smaller than the 14,000 to 18,000 proposed by General Lloyd Austin, the senior U.S. commander in Iraq, the Times said.
Still, the Pentagon and the White House denied there had been a decision on the number of U.S. forces that may stay behind in Iraq, saying that would only come after negotiations between Washington and Baghdad.
"No decision has been made with regards to the number of troops that will remain in Iraq," Panetta told reporters during a trip to New York.
At the White House, spokesman Jay Carney also denied Panetta had submitted a recommendation to President Barack Obama to reduce troop levels in Iraq to about 3,000 by year's end.
"We have said in the past that … if the Iraqi government makes a request of us (on a future training mission), we will certainly consider it," Carney said. "That request has not been made. No decisions have been made."
Reports that the United States might keep only 3,000 forces in Iraq past the end of the year triggered outcry in some quarters of Congress.
Senators John McCain, Joe Lieberman and Lindsey Graham said in a joint statement that a force of 3,000 trainers was "dramatically lower than what our military leaders have consistently told us over the course of repeated visits to Iraq that they require, and that is needed to support Iraq."
Asked by reporters about concerns in Washington that too many U.S. forces might leave, Panetta said only: "I think our goal here is to try to do what the Iraqis want us to do in order to try to protect their security."
Obama has overseen a drawdown of U.S. troops in Iraq to around 46,000 forces currently from around 140,000 when he took office in January 2009. He had pledged to have all out by the end of 2011 but U.S. officials have not ruled out a training mission.
WASHINGTON (Reuters) – (Writing by Phil Stewart; Editing by Bill Trott)