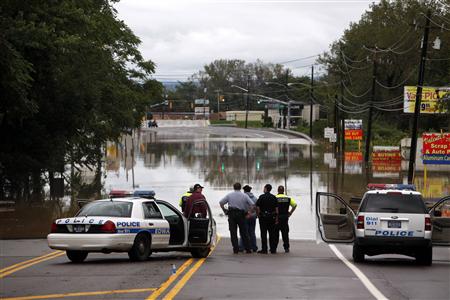 Tropical Storm Lee eased its grip on much of the
eastern United States
on Friday but left behind at least five dead, more than 130,000 evacuated and towns under 8 feet of water in historic flooding.
Pennsylvania
's swollen Susquehanna River crested in Wilkes-Barre at 4 a.m. at 38.8 feet, with no breach of levees built to withstand 41 feet of water, said officials.
"This level will go down in the record books as the second highest crest, falling short of the record flood stage of 40.9 feet set by (Hurricane) Agnes in 1972," said meteorologist Meghan Evans on Accuweather.com.
Heavy rainfall ended over much of the region but spotty downpours were predicted throughout the day, according to meteorologist Alex Sosnowski on Accuweather.com.
Rising rivers and stressed dams and levees presented the latest challenge to states still reeling from the devastation of Hurricane Irene.
More than 130,000 people were evacuated from their homes in Pennsylvania, New York and Maryland.
Among those who disregarded the evacuation were residents of Tunkhannock and Shickshinny, Pennsylvania, normally picturesque Susquehanna River towns now under 8 feet of water, who rode out the flood in their bedrooms and attics.
On Friday, Pennsylvania's National Guard troops went house to house in West Pittston, a nearly submerged nearby town without levees, in a search and rescue mission.
Pennsylvania Governor Tom Corbett warned residents to steer clear of the river waters, which were turned into a toxic mess after flooding washed out 10 sewage processing plants.
Flood warnings were issued for Pennsylvania, New York, New Jersey and Massachusetts and flash flood watches remained in effect on Friday in Maryland, Virginia and Washington, D.C., according to the National Weather Service.
The storm killed at least five people in Pennsylvania and Virginia. In Hershey, Pennsylvania, a homeowner trying to bail water out of his flooded basement died with a wall collapsed. In Lancaster County, a 62-year-old woman in her car was caught in flood waters, and a man was swept away as he tried to walk through rushing water 12 to 18 inches deep, authorities said.
In Virginia's Fairfax County, flash floods swept away two people, a 12-year-old boy in his family's backyard and a man in his sixties who was outside his car, said Lucy Caldwell, spokeswoman for Fairfax County Police.
"The water rose so quickly and so abruptly. It was terrifying," Caldwell said.

WILKES-BARRE, Pa (Reuters) – By Paul Eckert(Additional reporting by Dave Warner in Philadelphia, Daniel Lovering in Pittsburgh, Editing by Barbara Goldberg and Greg McCune)