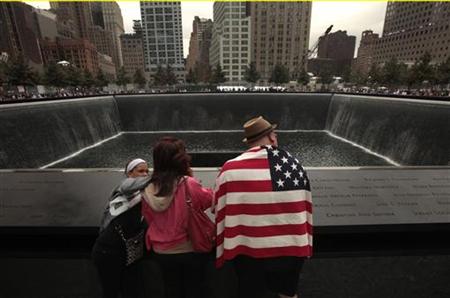 Intelligence that militants were plotting an imminent attack on the
United States
remained uncorroborated on Monday after the tenth anniversary of the September 11 2001 attacks on
New York
and
Washington
passed without incident.U.S. counter-terrorism and law enforcement officials said they had not completely dismissed or discredited intelligence received last week about a possible attack.
And because the intelligence reporting had said a strike could occur either on the 9/11 anniversary or within days of it, leads are still being chased and travel records are still being examined, they said.
However, three officials familiar with the threat reporting said that despite intense efforts by U.S. agencies to find concrete backup for the intelligence tip-off — from a source deemed "credible" and containing specific plot details — it remains unconfirmed.
One of the officials said that U.S. agencies had been unable so far to determine if two or three potential suspects mentioned in the tip-off really exist.
Had the tip not surfaced on the eve of the anniversary and alleged the possibility of an attack timed to coincide with it, it is unlikely the matter would have received as much attention as it did from the U.S. government and the media, the official said.
The information was "specific" in that it talked about how two or three militants traveling to the United States from the Afghan-Pakistani border area intended to launch anniversary attacks on New York and Washington, possibly, but not definitely, using car bombs, officials said.
The information was deemed credible at least in part because it fit with earlier information about al Qaeda intentions and methods.
The officials said the intelligence information included a suggestion that al Qaeda leader Ayman al Zawahiri might be associated with the plot.
U.S. officials said that in its original form, the intelligence reporting contained no information — such as names — identifying suspects, although there was some indication that two of the suspects might be U.S. citizens.
Using this sketchy but raw information, U.S. agencies spent several days combing records of international travelers and other databases for suspects who might fit the pattern.
But officials noted that no suspects had been arrested, and said some of the extraordinary security and surveillance measures which had been instituted over the weekend would be scaled back.
WASHINGTON (Reuters) – By Mark Hosenball(Additional reporting by Phil Stewart; Editing by Cynthia Osterman)