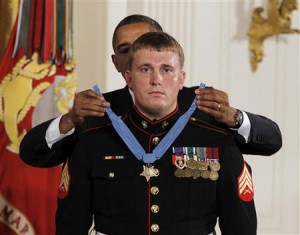 A Marine who saved 36 of his comrades' lives during an ambush in
Afghanistan
was awarded the Medal of Honor on Thursday, the first living Marine to win the highest U.S. military decoration since the Vietnam War.Sergeant
Dakota Meyer
, 23, had the light blue ribbon of the Medal of Honor draped around his neck by President
Barack Obama
at a glittering
White House
ceremony.
Meyer, a native of Columbia, Kentucky, was part of a U.S. team training Afghan security forces when they were attacked by about 50 insurgents on September 8, 2009, in Kunar province, eastern Afghanistan.
As a vehicle turret gunner and driver, he killed a number of insurgents while making repeated trips to rescue U.S. and Afghan troops under attack from rocket-propelled grenades, mortars and gunfire, according to his medal citation.
Then a corporal, Meyer defied orders to rescue 36 troops and was wounded by shrapnel during the six-hour firefight.
"'I didn't think I was gonna die, I knew I was gonna die,'" Obama quoted Meyer as saying.
"Because, as Dakota says, that's what you do for a brother."
Meyer, now a sergeant in the Marine Corps Inactive Ready Reserve, stood with his arms locked at his sides as Obama put the medal around his neck, patted him on the back and shook his hand.
Meyer received waves of applause from the audience gathered under the White House chandeliers and made no remarks.
Obama said Meyer was accepting the award for fallen comrades.
He is only the third living recipient of the Medal of Honor for service in Iraq and Afghanistan, and the first Marine.
Meyer, who also had served in Iraq, is one of the youngest Medal of Honor recipients, Obama said, noting he was 21 at the time of the action.
Meyer enlisted in the Marines in 2006. He completed active duty in 2010.
"I have to say Dakota is one of the most down-to-earth guys you'd ever meet," said Obama, noting that he and Meyer "were able to execute" drinking a beer at the White House Wednesday.
Presidents have awarded more than 3,400 Medals of Honor to members of the Armed Forces since its creation in 1861, according to the U.S. Army Center of Military History.
WASHINGTON (Reuters) – By Molly O'Toole(Editing by Ian Simpson and Greg McCune)