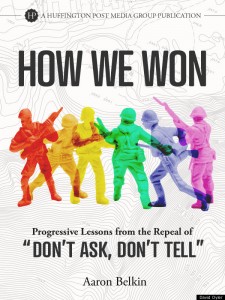 Tuesday, September 20, will mark a civil rights milestone for the United States. By order of Congress, the 17-year ban on gay men and lesbians serving in the military — commonly known as "don't ask, don't tell" — will be overturned.
But how did this historic change come about? And why did it take so long?
In "How We Won: Progressive Lessons from the Repeal of Don't Ask, Don't Tell," the second e-book from The Huffington Post, Aaron Belkin argues that the public needed to be persuaded that gay troops would not harm the military before Congress could be convinced to repeal the ban. Belkin, a scholar with more than a decade of hands-on experience in the repeal campaign, shares an insider's perspective on the strategies that he and others used to encourage this change of mind — and change of heart — in the American people and it's Congress. His top strategy, which, surprisingly, advocates for social progress often fail to pursue, was targeting lies and misrepresentations based on fear and ideology with facts.
The implications of Belkin's tactics extend far beyond the grassroots movement to repeal "don't ask, don't tell". They challenge some of the most entrenched conventional wisdom about how to successfully advance social policy. And the lessons that emerge could help persuade the public about the merits of other big ideas, including the benefits of higher taxes and the dangers of an excessively strong military. But for now, as Belkin says, it's time to celebrate this one great victory.
"Aaron Belkin's account of the hard-won effort to overturn 'Don't Ask, Don't Tell' is a fascinating and timely read."  – Arianna Huffington , Huffington Post
"Part analysis and part memoir, Aaron Belkin provides an insider's guide to the fascinating story of how the effort to end 'Don't Ask, Don't Tell' first changed public opinion and then military policy. A key guide to anyone hoping to understand this amazing moment in American history." — P.W. Singer
Senior Fellow and Director, 21st Century Defense
Initiative The Brookings Institution
"Belkin interweaves his own deeply personal story with the history of how 'Don't Ask, Don't Tell' was overturned making this modern human rights story both informative and entertaining. His recurring mantra of, 'let the facts speak for themselves,' provides an ideal way we would hope all national policy issues would be solved: a primer on how honest scientific research can overcome provincial agendas. This compelling account forces all Americans to look at the hatred in our dark past, and hopefully learn future lessons of the importance of not merely tolerance, but inclusion." — Steven M. Samuels, PhD
Professor, Department of Behavioral Sciences and Leadership, US Air Force Academy
"I know Aaron Belkin to be one of America's most knowledgeable experts on the subject of gays and lesbians in the military. This book clearly reflects that knowledge. It is a superb, detailed, but easy to read, book â?? one every adult American should read." — Brigadier General Hugh Aitken
U.S. Marine Corps (ret.)
The views expressed above are those of the author and do not necessarily represent the policy of the United States Air Force Academy or any other government agency.
About the Author
Aaron Belkin is Associate Professor of Political Science at San Francisco State University and Director of the Palm Center.  Prior to his arrival at State, he was a MacArthur Foundation postdoctoral fellow at UC Berkeley and a pre-doctoral fellow at Stanford.
Dr. Belkin has been one of the nation's leading advocates on the gays- in-the-military issue for more than a decade, and he designed and implemented much of the public education plan that undermined the military's and Congress's rational for "don't ask, don't tell."  He has delivered more than 30 lectures on "don't ask, don't tell" at military universities including West Point, the Army War College, the Air Force Academy, the Naval War College and others.  He is the Director of The Palm Center.
About the Palm Center
After President Obama signed legislation in December, 2010 authorizing the repeal of the law, Ira Hirschfield, President of the Evelyn and Walter Haas, Jr. Fund, wrote that, "A great many people and organizations had a hand in achieving this victory… But this day never would have arrived (or it would have been a much longer wait) without the persistent, grinding work of the Michael Palm Center."
The Advocate has named the Palm Center as one of the most effective gay-rights groups in the country. Dr. Belkin and his colleagues at the Palm Center have broken major stories about "don't ask don't tell" that have been covered widely by the U.S. and international media including: the first story about Arabic linguists being fired for being gay; a list of 104 retired Generals and Admirals calling for openly gay service; a Blue Ribbon Commission which found that the true financial cost of firing gays and lesbians in the military is significantly higher than reported by the government; a Pentagon regulation which continued to classify homosexuality as a mental illness; and many more.
Official website: http://howwewon.com/
HuffPost page: http://www.huffingtonpost.com/2011/09/06/how-we-won-progressive-le_n_951175.html
twitter: @aaronbelkin
THIS BOOK WILL BE AVAILABLE FOR:
Amazon Kindle, Barnes & Noble NOOK, Apple iBooks, Kobo
Huffington Post e-books are created with the help of BookBrewer (http://bookbrewer.com)
LOS ANGELES, Sept. 16, 2011 /PRNewswire-USNewswire/ –  SOURCE Palm Center
CONTACT: Cathy Renna, +1-917-757-6123, cathy@rennacommunications.com
Web Site: http://www.palmcenter.ucsb.edu