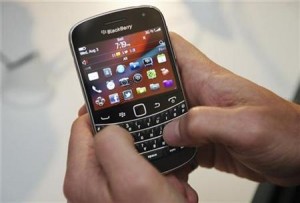 Research In Motion is losing market share much faster than expected to rivals Apple and Google, amid mounting concerns over its cash flow and ability to meet its outlook, analysts warned on Friday.
Shares of RIM tumbled 22 percent in Frankfurt trading. In the United States, the BlackBerry maker's shares were down 20 percent in thin early pre-market trading.
On Thursday, the company posted a sharp drop in quarterly profit, painted a dismal picture for the current quarter and said it now expects to reach only the lower end of an already reduced full-year outlook.
"The North American market share losses persist and we believe this trend is starting to spread to international markets… with slow signs already in UK," Sanford C. Bernstein analyst Pierre Ferragu wrote in a note to clients.
The weak performance showed how much BlackBerry — once a byword for corporate communication — has lost favor as Apple's iPhone and devices running Google's Android software take greater market share, especially in the United States.
Yet, RIM's management remains in "blatant denial," said Bernstein's Ferragu, who believes the company's outlook for the third quarter and the full year appears "unrealistic."
"The co-CEOs do not recognize the failure of the Playbook and continue to sell its merits in terms of security," he said, noting that PlayBook tablet computers shipments fell from 500,000 to 200,000 units in one quarter.
Co-Chief Executive Mike Lazaridis, in a conference call after the results, said he was confident that RIM was on track to return to growth in the third quarter, while co-CEO Jim Balsillie promised a software upgrade he dubbed PlayBook 2.0.
But National Bank Financial analyst Kris Thompson called the PlayBook "nothing short of a disaster" and said RIM now needs to spend money to promote the PlayBook in order to move inventory.
Thompson was also concerned on the one-time smart phone leader's cash flow as it planned to raise its existing credit facility to $500 million from $100 million. RIM is set to burn $300 million this fiscal year, he estimated.
He downgraded RIM to "underperform" from "sector perform."
Separately, Citigroup analysts Jim Suva and Kevin Dennean said RIM's margins were under pressure as carriers shift their promotion spending to Android and Apple.
"Promotion commotion hurts gross margins and we don't see it getting better," they said, and reiterated their "sell" rating on the stock.
Brokerages Susquehanna, CIBC and Raymond James also cut their price targets on the stock.
(Reuters) – (Reporting by Tenzin Pema in Bangalore; Editing by Maju Samuel and Joyjeet Das)