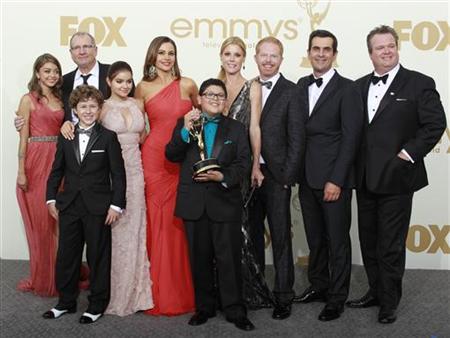 Big, brash new singing contest "The X Factor" was thumped on its U.S. TV debut, with American audiences preferring comedy "Modern Family" in their millions, ratings figures showed on Thursday.
After months of hype and bold predictions by its creator Simon Cowell, just 12.1 million Americans tuned in for the debut of "The X Factor" on Fox — about half the audience for the most recent season of "American Idol".
Instead, "Modern Family" — the affectionate ABC mockumentary that won big at the Emmy Awards last weekend — drew 14.3 million viewers to make it the most-watched TV show of Wednesday night, early numbers for Nielsen media research showed.
Critics were also mostly underwhelmed by "X Factor", which Cowell had predicted earlier this year would thrash the competition and replace "Idol" as the most-watched show on U.S. television.
"It quickly becomes clear that this series, which has billed itself as a new type of competition show, really just remixes the well-established gimmicks of the earlier entries in the genre," wrote Neil Genzlinger of the New York Times.
As for the acid-tongued Cowell — the "X Factor" creator, executive producer and judge — Genzlinger said, "This magician no longer has a curtain hiding the secrets of his tricks."
Hollywood trade paper Variety said the series appeared "even more emotionally manipulative and over-produced than its ('Idol') predecessor."
And an extended sequence in which a contestant dropped his pants but was allowed to continue performing was a turn-off for many.
"When a man is allowed to 'sing' a song about being a stud while shaking his presumably naked genitals at the audience (on the screen they are covered by an X) without the judges stopping him…the narrative manipulation suggests the word 'desperate,'" said Mary McNamara of the Los Angeles Times.
As for the much ballyhooed firing of British singer and judge Cheryl Cole and her replacement by Nicole Scherzinger, many critics were left perplexed.
"Was Cheryl Cole really that hard to understand? Or did someone at Fox just owe Nicole a rather large favor? (Because frankly, Cheryl was awesome, made total sense and was adorable to boot. Please submit your plausible explanations as to why she was fired in the comments section because we're coming up empty.)," wrote TV Guide's Denise Martin.
LOS ANGELES (Reuters) – (Reporting by Jill Serjeant; Editing by Bob Tourtellotte)